Climate Adaptation Strategies for Pacific Northwest Forests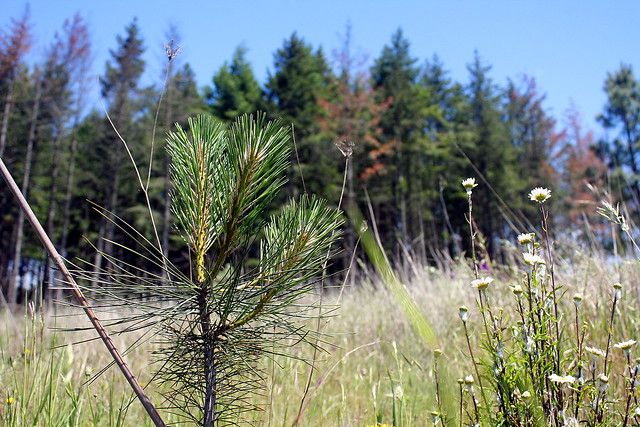 NNRG is hosting trainings for professional foresters and land managers to understand the impacts of climate change to forests in western Oregon and Washington and management approaches to adapt and improve resiliency. 
Climate change poses significant challenges for small forest owners in the Northwest. Recent analyses indicate that western Oregon and Washington will likely experience warmer temperatures, higher winter precipitation, reduced snowpack, and less precipitation in summer months. This means changes to the core conditions in which current forests thrive, heightened stress on fish and wildlife, and increased risks from insects, disease, and wildfire.
There are many actions land managers can take to improve a forest's resilience to climate change. Most management strategies and tactics that help forests adapt to and become more resilient are already commonly used practices and familiar silvicultural techniques. A changing climate just makes proactive forest management that much more important.
Workshops for natural resource professionals and land managers
NNRG is hosting trainings to help foresters and land managers make informed decisions about adapting their management practices to meet their goals and sustain forests into the future.
Workshops will cover frequently asked questions, and practical approaches to risk management to help participants understand:
climate change projections for the Pacific Northwest
effects on forest ecosystems of western Oregon and Washington
adaptation approaches and tactics
tools to inform management decisions
resources to refer to and share with clients
practice thinking through adaptation strategies
Workshop Registration Now Open!
Wednesday, November 6
8:45am-5:30pm
Everett Station
Everett, WA
This event has passed. 
Thursday, November 14
8:45am-5:30pm
Olympia Center
Olympia, WA
Thursday, December 5
8:45am-5:30pm
Chemeketa Center for B & I
Salem, OR
Registration fees help offset the workshop costs. Lunch and refreshments will be provided.
SAF CFE credits have been pre-approved for these workshops. Each workshop will count as 6.5 Category 1 hours. 
We are hosting a similar workshop in THREE locations, there will be greater emphasis on western Washington forests in the Everett and Olympia sessions, and greater emphasis on northwest Oregon in the Salem session.
This workshop is open to foresters, natural resource professionals, land managers, small forest owners, and anyone interested in adaptation concepts and strategies for western Oregon and Washington forests.
Resources
NNRG is developing resources for foresters and land managers, including: Climate Adaptation Strategies for Western Washington and Northwest Oregon Forests. The white paper is an overview of climate trends and projections, vulnerabilities, and adaptation strategies. Stay tuned for this resource! 
The following, are helpful sources of information for addressing the affects of climate change on Pacific Northwest forests:
Funding and support for this project comes from: