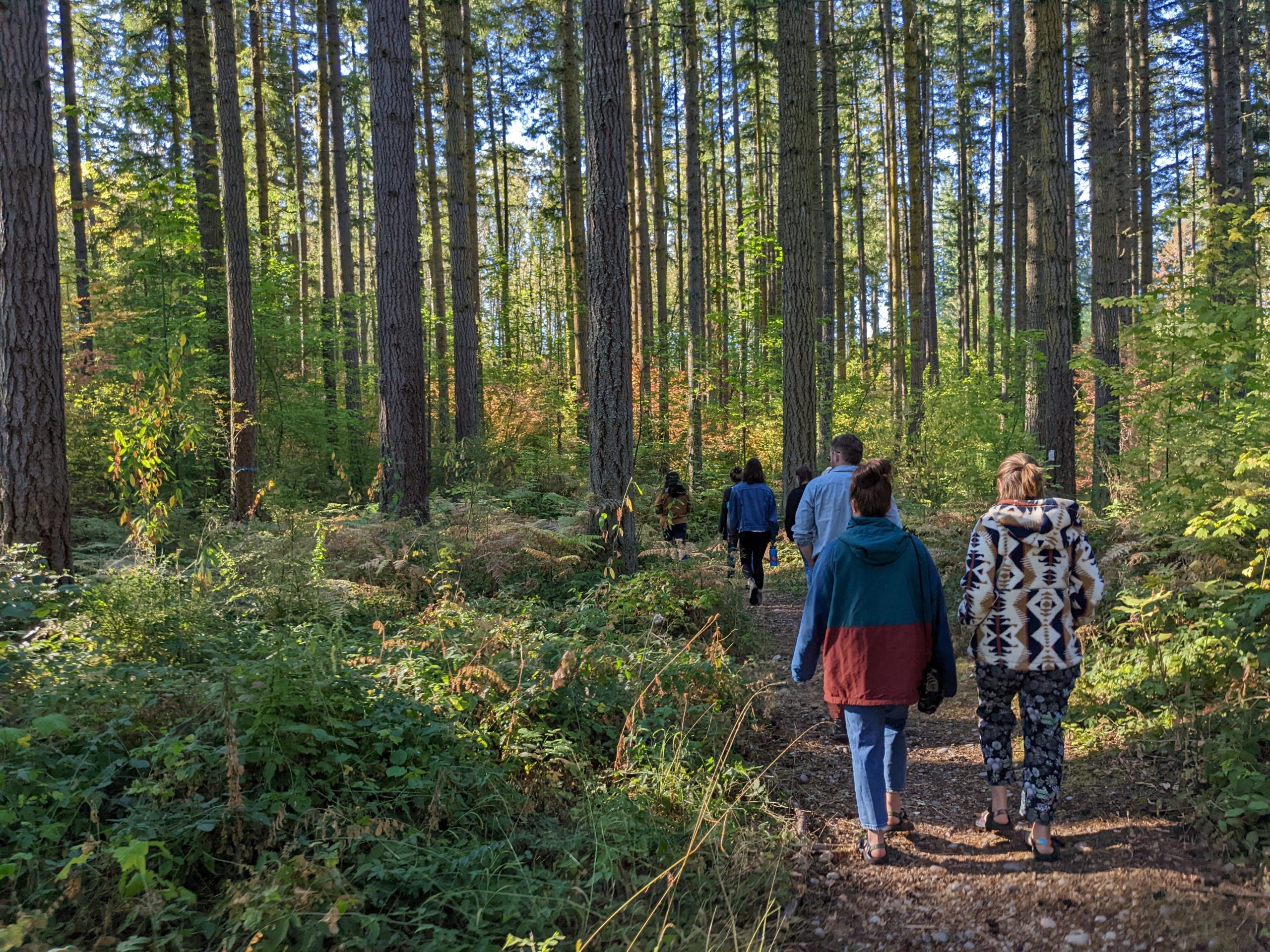 NORTHWEST INNOVATIVE FORESTRY SUMMIT
2023 fALL FIELD TOURS AND WEBINAR
Registration now open!
The Northwest Innovative Forestry Summit (NIFS) is a space for regional learning, exchange, and ongoing cooperation to foster ecologically-based forest management strategies with programs focusing on sustainable, forest-related innovation – past, present, and future.
This autumn, NIFS will be hosting a webinar presentation and panel discussion that will highlight the roles of traditional and non-traditional experimental forests in innovation. Following the webinar presentation and panel discussion, NIFS will hold two field tours at experimental forests in the Pacific Northwest to feature their roles in forest management and research, as well as exploring how their work has facilitated innovation and community.
FIELD TOUR 2
Assisted Migration Field Tour at Stossel Creek and Oxbow Farm
Date: Friday, October 6, 2023
Time: 9:00am – 2:30pm
Location: Oxbow Farm & Conservation Center, 10819 Carnation-Duvall Rd NE, Carnation, WA 98014
Click here for the tour agenda
SUMMIT ORGANIZERS
Please email membership (at) forestguild.org if you have questions about the summit or are interested in joining the organizing team.

PAST SUMMIT EVENTS
Fall 2022 Summit | September 30, 2022 – October 2, 2022 | University of Washington Pack Forest
After a successful debut as a virtual summit in 2021, Northwest Innovative Forestry Summit returned in 2022 — this time in person — at the University of Washington's Pack Forest!
The Pacific Northwest region benefits from a long, deep, and often underappreciated history of experimentation and innovation in its forest sector. Current challenges call us to better understand both current and past examples of forestry innovation, and to chart a course for improving sustainable forest management through partnerships and problem solving.
The Summit is a venue for regional learning, exchange and ongoing cooperation to advance and celebrate innovation in all aspects of forestry and forest-related work in our region. Join a diverse mix of Northwesterners for a three-day exploration of the past, present and future role of innovation in our forests and forestry. Each day will include a series of themed presentations and discussions exploring all dimensions of innovation in modern forestry.
Natural resource professionals, students and educators, and members of NGOs, private or public organizations joined us at the end of September for three days of forestry education and innovation in the woods. Check out the session details below.
Participants enjoyed the hospitality of University of Washington's beautiful Pack Forest. Pack Forest's shingle-clad cabins, dorms, and apartments are clustered around the main event buildings and surrounded on all sides by forest, providing great opportunities for outdoor sessions. The summit included homemade meals prepared by Pack Forest's on-site kitchen.
Click here to download the NIFS 2022 event packet with session descriptions, speaker bios, and resource links.
April 2022 Virtual Event Series | April 7, 2022 – April 28, 2022
In April 2022 we held a month-long series of virtual sessions that acted as a precursor to the in-person Summit at Pack Forest in the fall. These events were be a mix of presentation and discussion. You can view recordings of the events at the links below.
Living with Change: Discussing Future Challenges and Opportunities
The goal of the session is for participants to share what changes they see on the horizon for forestry, gain an understanding of the associated challenges, and collect ideas how we can best deal with those changes. The session starts with a brief summary of results from a survey about the ecological, economic, and social changes respondents see as challenges or opportunities for our region. Participants will then discuss changes in smaller groups.
The Co-evolving Story and Stewardship of Northwest Forests
Like beauty, ecological integrity and forest productivity are in the eye of the beholder. Those madronas growing among the Douglas-fir — are they competitors or cooperators? That forested park — is it a wildlife refuge or a tinderbox of excess fuel for wildfires? Not only is forest stewardship changing, so are the stories we tell ourselves about the forest and our place in it. This panel will take stock of how the narrative about forestry has shifted both within the forestry community and in the larger public arena.
Diversifying Forest Revenue and Values: What's the Same and What's Changing?
Carbon credits, wood-based certifications, non-timber forest products, conservation finance, and ecotourism are some examples of financial opportunities that forest landowners consider to diversify revenue streams – but these opportunities are not always lucrative. How are the opportunities and markets for forest owners changing or staying the same? Join us for a panel discussion on which opportunities are fulfilling their promise to landowners and which are falling short.
Working Together: New Partnerships in Forest Ownership and Conservation
Flux in forest ownership has long been a reality and driving force in the Northwest. We are in a period of relatively rapid ownership transition and the outcomes continue to shape both the forests and forest-dependent communities. All across our region people, organizations, agencies and businesses are finding innovative ways to work cooperatively together toward common goals for forests and human communities. In this session we will explore the role of innovation and lessons learned from case studies, in varying levels of maturation, from across our region. Participants will be invited to consider how these lessons might be applied throughout our region.