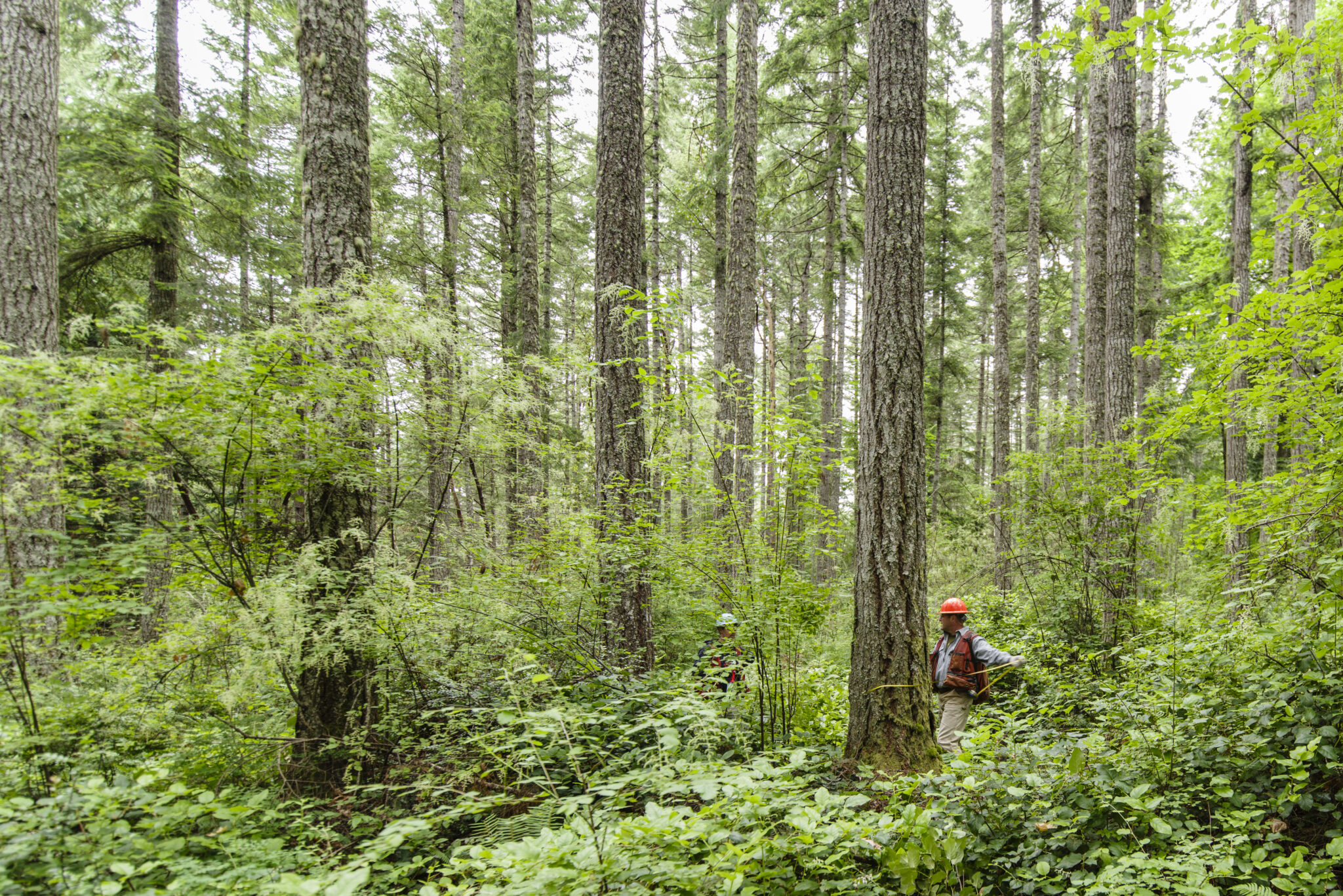 MISSION AND APPROACH
MISSION
NNRG is a 501(c)3 non-profit organization. We strengthen the ecological and economic vitality of Northwest forests and communities by connecting people with the knowledge, skills, and markets they need to steward their land.
APPROACH
NNRG is a think-learn-and-do tank of ecological forestry. We advance the state of knowledge about ecological forestry, spread the word about its benefits and feasibility, and help landowners put it into practice on their own forests.
Operating primarily in western Washington and Oregon, we focus on forests owned and managed by private landowners, smaller forest product companies, governmental agencies, Indian tribes, and non-profit organizations. Ecological forestry (defined in more detail here) is an approach that mimics natural processes wherever possible and treats the forest as a whole system.
LONG-RANGE GOAL
The majority of non-industrial forestland in Washington and Oregon is managed to Forest Stewardship Council standards or higher.
WHAT WE DO
Help landowners take care of their forests
Whether you've just acquired your forestland and need to draw up a management plan, or you're preparing to harvest some of your timber, NNRG can help. We have a team of seasoned foresters who will work with you and your forestland to attain your economic, ecological, and social goals. Our services also include reforestation, forest inventory, and timber appraisals.
Offer the Forest Stewardship Council® seal of approval
NNRG holds a group certificate from the Forest Stewardship Council, the most rigorous and credible forest certification system in the world. More than 80 forests covering 190,000 acres in Oregon and Washington meet the FSC's exacting standards and earn their certification through NNRG. We also help wood-buyers find building materials from well-managed forests, through a searchable database which we operate in partnership with the US Forest Stewardship Council. Go here for a list of our FSC-certified landowner members.
Spread the word about ecological forestry
Through workshops, conference presentations, and our extensive online library of resources, we help forest owners and managers see the potential in applying ecological forestry to their lands.
Deepen our understanding of ecological forestry
We're currently engaged in two research projects that will contribute to our understanding of how ecological forestry works.
In partnership with the Oregon State University, we are conducting a study of the financial results of timber harvests of various kinds, so that forest landowners can foresee more accurately the economic gain they could realize from thinning their forest instead of cutting it down entirely.
In anticipation of climate change's impact on Northwest forests, we are developing a curriculum for foresters and landowners about how to modify their management strategies in anticipation of the hotter, drier summers predicted for our region.
Through our programs, we work to achieve three primary objectives:
Provide access to the tools and information that landowners need to sustainably manage their forest.
Improve the economics of sustainable forest management so that all landowners can secure the financial resources to steward their land, and consumers can support ecological forestry with their purchases.
Empower communities of forest owners and businesses to work together and champion the cause of ecological forestry.
HISTORY
NNRG began in 1992 as a community-based non-profit organization striving for economic and environmental vitality on the Olympic Peninsula in Washington State. The organization changed its name from the Olympic Peninsula Foundation to Northwest Natural Resource Group in 1997 to reflect an expanded geographic focus. NNRG is now in its third decade of helping landowners improve the health of forests in the Northwest.
STRATEGIC PLAN
For more about our approach, read our current Strategic Plan.
LAND ACKNOWLEDGEMENT
NNRG acknowledges that our work takes place in the traditional territories of the Coast Salish and Chinook peoples, who have lived in this region since time immemorial. We are grateful to our indigenous neighbors for their millennia of enduring care for the woodlands and forests of this place.
We recognize and acknowledge the rights reserved by native peoples in the 1854-55 treaties of Medicine Creek, Point Elliott, and Point No Point, covering much of the terrain where we work. In addition, we acknowledge that unilateral action by the federal government in 1864 took the lands inhabited by the Chinook people of what is now southwestern Washington.
We are deeply honored by the tribes that have chosen to engage our partnership and assistance in the stewardship of their forestland, and are privileged to help those sovereign Indian Nations pursue their goals for their land.
We encourage all landowners to research the history and treaties that govern the land they're situated on, and consider what that history might mean for the stewardship of their forests and the streams running through them.