Helping landowners learn from their peers about harvest options.
How do management decisions affect the economics of harvest outcomes? And what economic outcomes have impacts on harvest management?
Northwest Natural Resource Group (NNRG) and Oregon State University (OSU) are collaborating on a research project to understand the range of outcomes local forest owners have achieved from timber harvests. The purpose of this study is to help landowners learn from the experiences of peers with similar forests and similar management goals for their land. 
This page will be updated with new information and analysis throughout 2021.
NNRG presented case studies from this research at the Northwest Innovative Forestry Summit (NIFS) on April 1, 2021. We'll share the recording of the presentation once it's available.
NIFS is a venue for regional learning, exchange, and ongoing cooperation to implement ecological forest management strategies. The programs focus on sustainable, forest-related innovation – past, present, and future.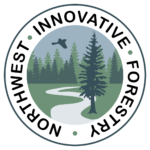 Preliminary Results
The project researchers presented preliminary results from the study at the virtual Community Forest Forum in October 2020. Check out the event recording to get a sneak peek into the research findings!