Increasing forest health through
young-stand thinning & seedling release
WILD THYME FARM
The Wild Thyme Farm near Oakville, WA is a 100-acre privately owned farm and forest that hosts a wide array of stand types including newly established mixed conifer plantations and mature naturally regenerated hardwood and conifer stands. In recent years the forest owner has harvested patches of mature hardwoods and replanted these sites with mixed conifers. Native brush species have rapidly colonized the planted harvest units, and in some places are competing directly with tree seedlings. Control of competing brush will be important to achieving the goal of reestablishing this site as a mixed conifer forest.
Young Douglas-fir/western red cedar plantation stand release from competing brush
Project
Status
Stand release being conducted spring 2021
Location
Oakville
Grays Harbor County,
Washington
Project Description
This project will treat a newly established plantation of western red cedar and Douglas-fir using the following two treatments methods:
Hand cut competing vegetation to release the top ⅓ of the seedling
No treatment
A PDF of the map to the right is available here.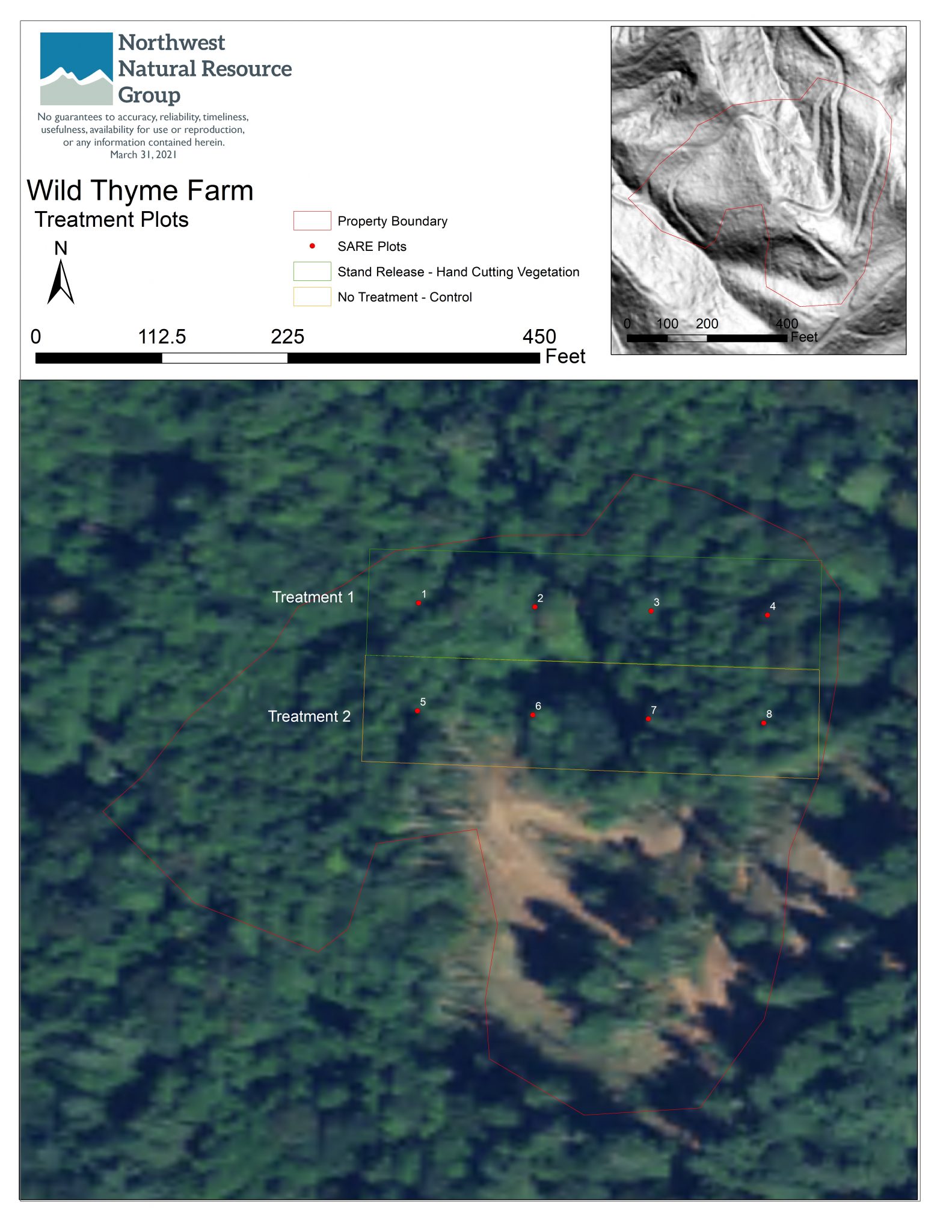 Stand Description
A combination of red cedar and Douglas-fir were planted across the unit in 2017 following the harvest of the mature hardwood overstory. During the intervening three years, the following brush species have colonized the site: sword fern, salmonberry, trailing blackberry, sprouting big leaf maple, and others. A sparse collection of mature conifers were retained across the unit during the harvest, as well as a few mature maple and red alder.
Treatment Goals
The goal of the treatment is to release the conifers and promote their growth towards a free-to-grow height above competing vegetation, after which no further stand maintenance will be required until trees reach either pre-commercial thinning or commercial thinning age.
About the Treatment
Comparing a treated site to a non-treated site will allow observations of the growth differences between manually released conifer seedlings and seedlings that must endure competition from surrounding vegetation. Although Douglas-fir and western redcedar are the priority crop trees, naturally regenerating alder will also be retained where it is not directly competing with conifers. Further, bitter cherry will be thinned, but also retained where it is not competing with conifers.
Study Design
The project includes two treatment sites, each 1.0 acre in size. Within each treatment site four 1/20th-acre (0.05 acres) permanent monitoring plots/acre were installed prior to implementation of prescribed treatment. Each plot is permanently monumented with a rebar stake and 4' white PVC pipe with bright orange ribbon tied to the top. For each plot, the following data has been recorded: Average stand age, Soil type, Site index & class, Elevation, Rainfall, Aspect, Slope. Pre-activity data has been collected from the treatment sites and after the respective treatments have been implemented, post-activity data will be collected. Plots will be remeasured at 24 months following treatment.
Plot design and data collection for each treatment is as follows:
Young Douglas-fir/western red cedar plantation stand release from competing native brush
SPA (saplings per acre): all hardwoods & conifers (for hardwoods only count alder and maple)
Species
Height
Defect
Shrubs: species, % cover, avg. height of entire shrub layer. Include cherry, cascara and other low trees
Photo points from plot center: E, W, N, S
Treatment Plot Data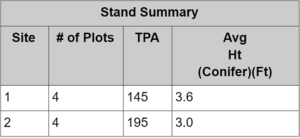 View the pre-treatment stand plotcard data for this project here: PDF | Excel worksheet
Labor/Cost Statistics
Project underway
Project Photos

Plot 2 East


Plot 2 North


Plot 2 South


Plot 2 West


Plot 3 East


Plot 3 North


Plot 3 South


Plot 3 West


Plot 4 East


Plot 4 North


Plot 4 South


Plot 4 West


Plot 5 East


Plot 5 North


Plot 5 South


Plot 5 West


Plot 6 East


Plot 6 North


Plot 6 South


Plot 6 West


Plot 7 East


Plot 7 North


Plot 7 South


Plot 7 West


Plot 8 East


Plot 8 North


Plot 8 South


Plot 8 West