Forest Bathing Takes on New Meaning in This Treehouse Airbnb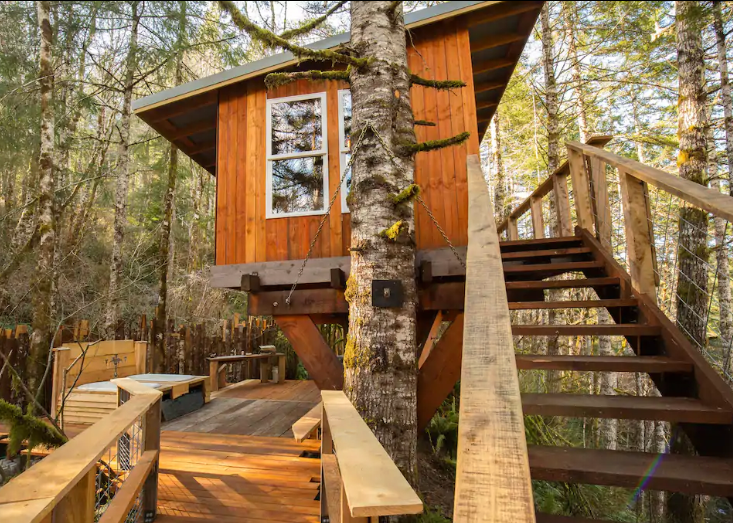 Forest owners looking for ways to profit off of their forests sometimes turn to producing non-timber forest products, or NTFPs. Some lease salal harvesting rights to greens companies; others make and sell evergreen wreaths made from cut boughs.
One member of NNRG's group's FSC® certificate has created a successful business out of a less conventional NTFP: renting out a uniquely luxurious treehouse deep in their woods.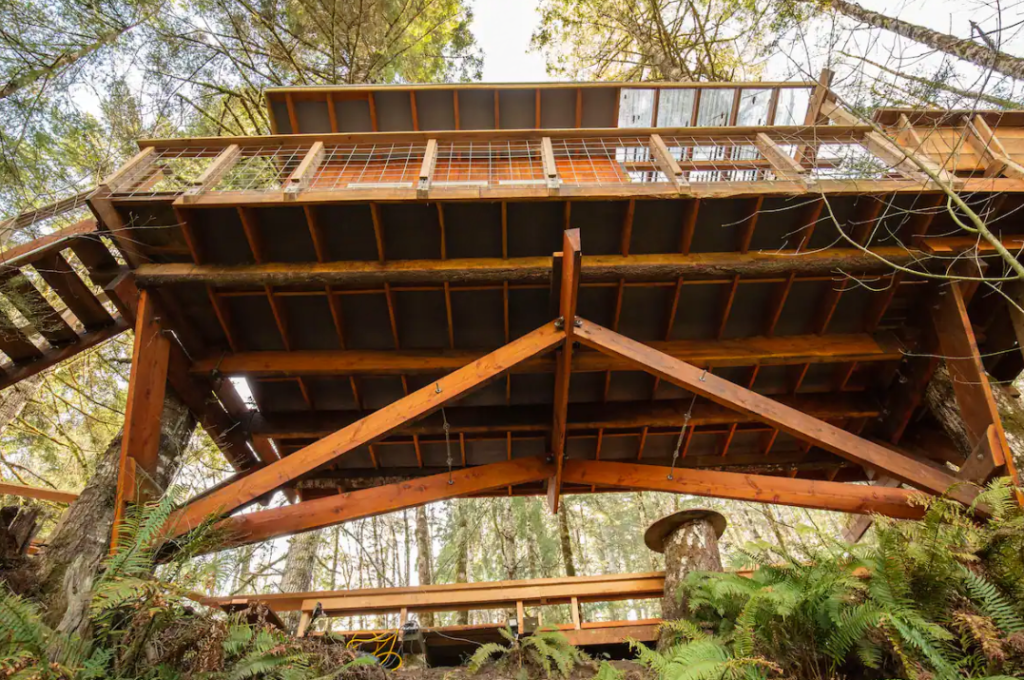 Sean, who stewards a 200-acre forest in southern Oregon with his parents, built this treehouse with the help of a few friends. He grew up building treehouses, so designing and constructing this large treehouse to rent as an AirBnb was a natural continuation of that childhood joy. 
The majority of the wood used during construction came from the forest itself, milled onsite using a portable mill the family has owned for a decade. Construction was completed in March 2020, "right in time for the pandemic to kick in." Rather than hurt business, the pandemic may have actually helped, as the isolated Airbnb could be booked and rented without in-person contact. By the end of 2020 many people were seeking a reprieve from months of working from home, and this magical treehouse made a nice change from the confines of the home office.
The treehouse is situated between two large firs on a hill above a creek. The building itself spans two levels (plus a composting toilet on the ground). As you walk up the stairs, the first level is an open deck with two "hot tubs" — side-by-side bathtubs that can be filled by by an on-demand propane water heater — an outdoor sink, and a small wood sauna. 
Walking to the top of the stairs you'll find the main deck and the cozy bedroom, which features huge windows that look out into the forest. 
Sean saw bookings for the treehouse come in soon after it was listed, but its popularity skyrocketed after a TikTok influencer created videos of her visit to treehouse in the winter, calling it the best treehouse she visited in 2021. Nowadays, the treehouse is almost always fully booked year-round, with few exceptions. And Sean says aside from a few "complain-y" guests, he hasn't had any negative experiences hosting people. 
Guests who review the treehouse rave about the outdoor tubs, the wooded ravine view, and — with no wifi and little cell service — the ability to fully "disconnect" from the outside world. 
Photos of the AirBnb by Emma Jones Imagery.