Forestry for the Generations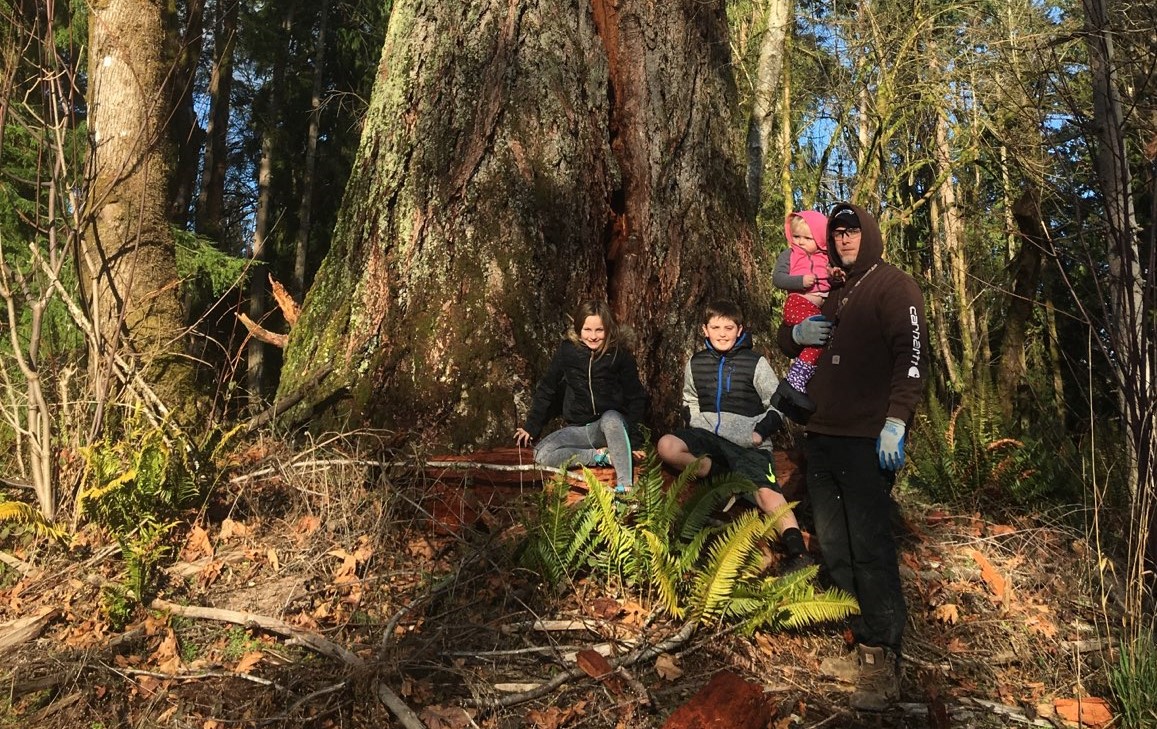 Ayers' Last Stand has roots that go four generations deep.
When Matt Patton and his kids play in their forest, they're climbing, hiding, and running around some of the same trees Matt's great-great-grandfather knew. Matt's kids are the sixth generation in his family to experience the forest—known as Ayers' Last Stand—and likely not the last.
Today the forest's 210 acres are FSC®-certified through NNRG's group certificate. But Ayers' Last Stand came into being long before FSC® existed, when the family of Matt's maternal great-great-grandfather moved from Connecticut to Thurston County in the 1890s. "They started farming on some of the property, mostly dairy, and the forest was used for necessities back then such as firewood and milling timber for various construction on the farm." Unlike a lot of other wooded areas in Thurston, Matt says his forest was "pretty much left alone" except for some harvests of big fir and cedar in the mid 1900's.
Now, three generations of Matt's family are getting to work on and enjoy the benefits of their land at the same time. The forest is a critical part of the family's legacy, and Matt plans to keep things that way. "We have had it in the family for 125 years and hope to have it for 1000 more. It will never be clear cut or sold and will be an ongoing benefit to our family financially and recreationally."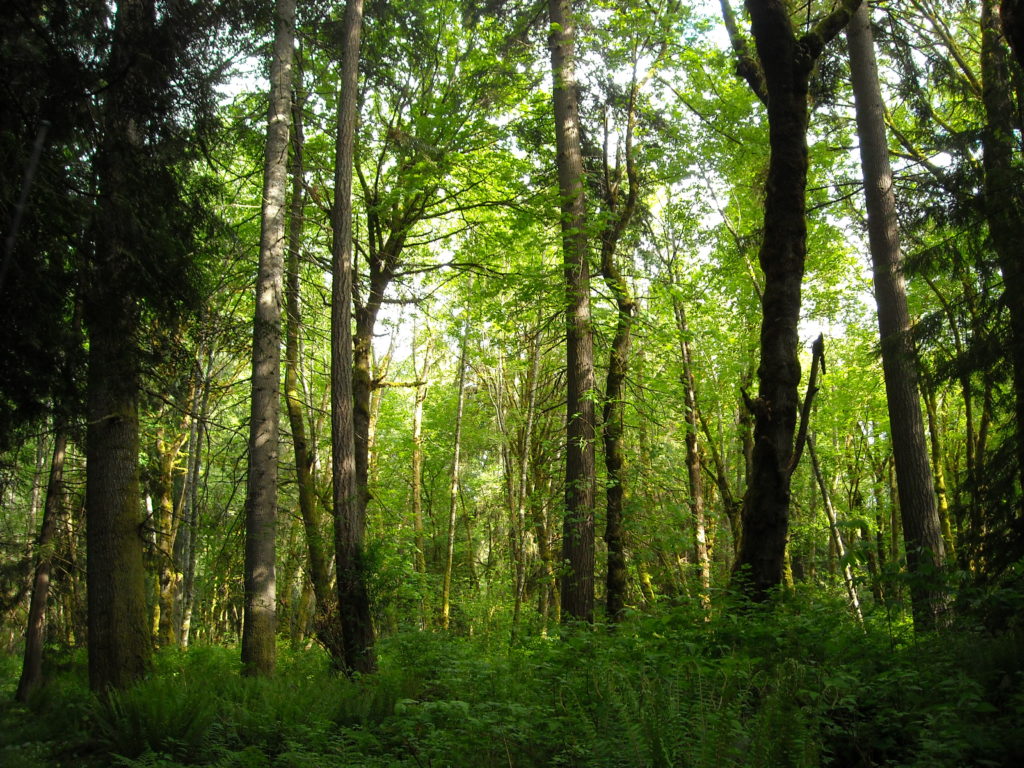 Matt understands the challenges families face in managing their woodlands over multiple generations. Gathering the knowledge to steward a healthy forest, plus the financial means to do so, can be challenging, especially in the face of intensifying regulations and a fluctuating economy. And keeping the next generation interested in stewarding the family land is an age-old problem; when the kids don't want to be involved, land is simply sold off.
At least in Matt's case, the latter doesn't seem to be too much of a problem. His two eldest children are experienced forest adventurers. Building forts, biking, and airsoft battles are common activities within the trees. And two the youngest are getting a head-start on their love of the woods. "I have a one and a two-year-old who we take out for fun days in the forest. They love the animals they see, the leaves that turn color, the river flowing by, fishing in the lake, and watching their dad make beautiful wood products with his mill. It reminds me of me and the fun childhood I had on the property. I think as they get older, they will agree."
Besides, Matt says, "I think I have the kids convinced that there is a happy and friendly Sasquatch out there." Well if that can't keep the kids interested, what will?
But it hasn't all been smooth sailing. A few years ago Ayers' Last Stand was hit by a windstorm that changed the forest forever. "On May 4th, 2017 at about 4 p.m., a microburst went directly through our forest and destroyed everything in its path." The effects were devastating for the family to witness. The forest lost some of its biggest, oldest, and most treasured trees—including the only old-growth Douglas-fir left in the forest. "We salvaged what we could with loggers for about two years. This totaled over 2 million board feet sent to the mills."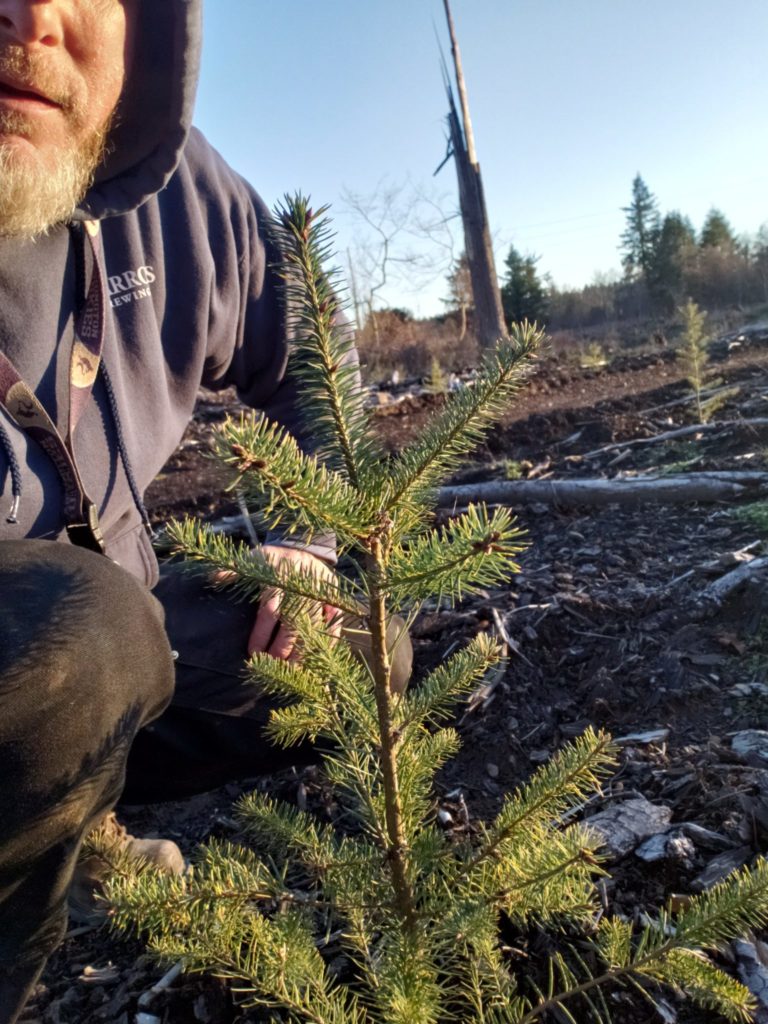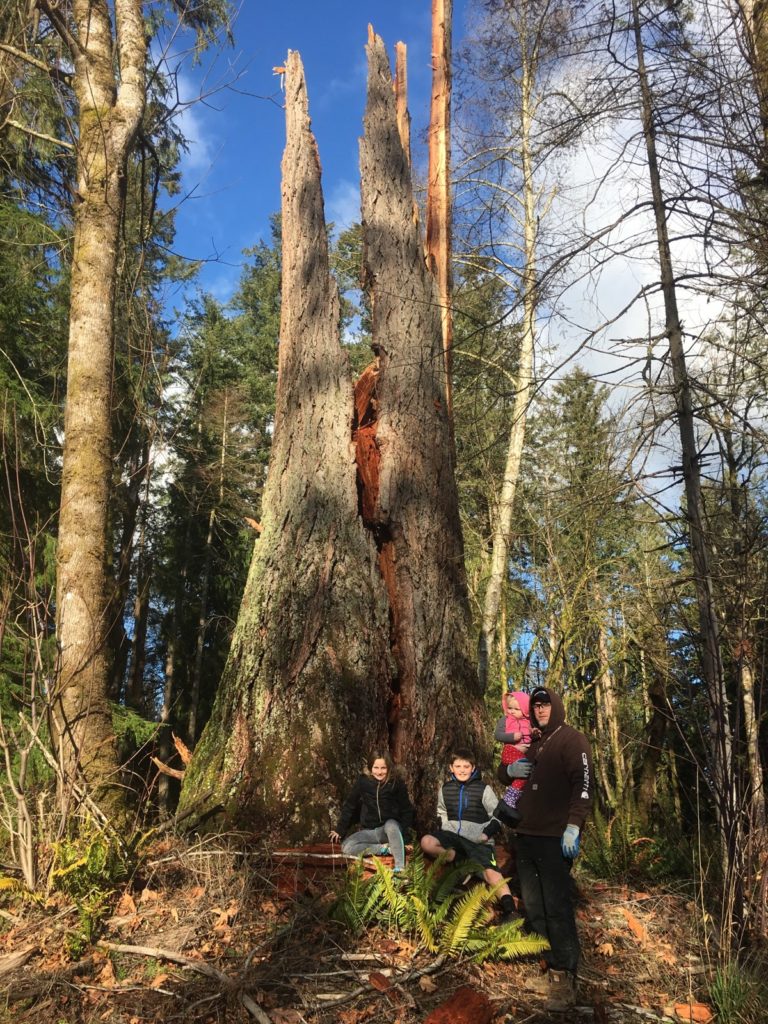 "There's still a lot of cleanup and replanting to do," says Matt. "Over the last two years, we've planted 45,000 fir and cedar saplings, and more will be done annually for the near future."
Matt knows this is work with a long-term pay-off. "I'm planting trees and working hard so that family that have not even walked this earth yet, my grandkids and their grandkids, will continue the legacy."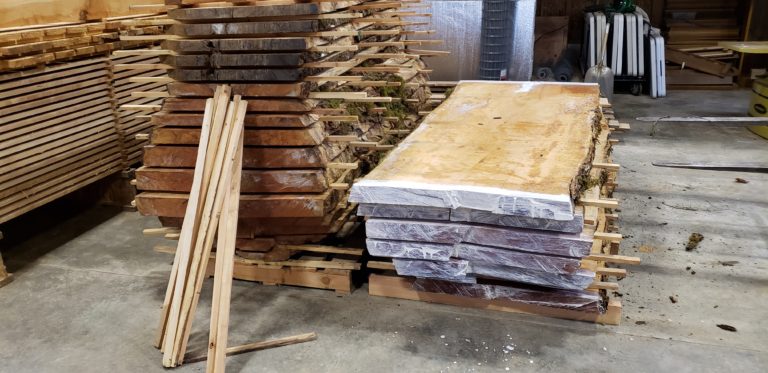 And what's the deal with the forest name, 'Ayers' Last Stand'?
"The last name of Ayer is my mother's side of the family. The Ayer family bought a full section in the 1890s and over the years had sold various parcels off and then the main farm as well. Our forested 241 acres are the last of it. Thus the double meaning of "last stand" and a "stand of trees". I was just feeling "witty" and thought of it and the family agreed it would be a good name. What is kinda funny is that at one time, my great grandfather and his brother named the farm on the property "Thistle Dew" (This will do)."
Previous
Next