One of the most important decisions you can make to promote wildlife habitat is to keep snags and down wood in your forest.
Snags, large down logs, and big decadent trees provide food and shelter to more than 40 percent of wildlife species in Pacific Northwest forests. This coarse woody debris provides important structures for cavity-dependent birds and small mammals, food sources for woodpeckers and other foragers, and slowly release nutrients into the ecosystem with the help of decomposers.
Forests naturally include some trees that have succumbed to diseases, pests, storm events, or old age – some disease, decay, and tree death is normal in a healthy forest. Damaged, dead, deformed, and dying trees are hotspots of biodiversity and biological legacies. Second- and third-growth forests often lack sufficient snags and down logs because these materials were removed during previous intensive forest management; or the few remaining are in advanced stages of decay.
Historically, undisturbed lowland westside forests in Oregon and Washington with healthy populations of snag-dependent wildlife species had an average of 10-18 snags per acre and 50-140 down logs per acre in varying states of decay and size.1 Terrestrial amphibians, reptiles, birds, and small mammals depend on large coarse woody debris for protection as well as foraging for insects, fungi, and seeds. Additionally, many species of fungi, moss, lichens, ferns, and invertebrates that form an integral part of a healthy forest depend on dead trees and down woody material for all or a part of their life cycle.
Wildlife biologists consider high-quality snags to be standing dead conifers with diameters that are 12 inches or larger. Cavity-nesting birds like woodpeckers need trees with diameters of at least 25 inches. Large hardwoods such as bigleaf maples and Oregon white oaks also provide snags with large cavities. Conifer snags tend to last longer than hard wood snags, as hardwoods decay faster. The larger the tree, the larger the snag, the better.
Through retention and natural recruitment, manage your forest to include:
At least 4 down logs per acre that are 20 feet long and 20 inches in diameter – the larger the better
At least 4 snags per acre that are 20 feet tall and 12 inches in diameter – the larger the better
In the short term, creating wildlife habitat piles and constructed logs can provide some of the functions of dead wood.
Habitat Piles
Wildlife habitat piles are deliberately constructed. They are built with small trees, limbs, and boughs – often with materials that are a byproduct of management activities or storm-related debris. These "critter condos" provide some of the functions of large down logs found in older forests. Wildlife such as song birds, voles, chipmunks, squirrels, rabbits, salamanders, frogs, lizards, snakes, and insects use piles as dens or nesting spots, to shelter from bad weather, to escape predators, and to forage.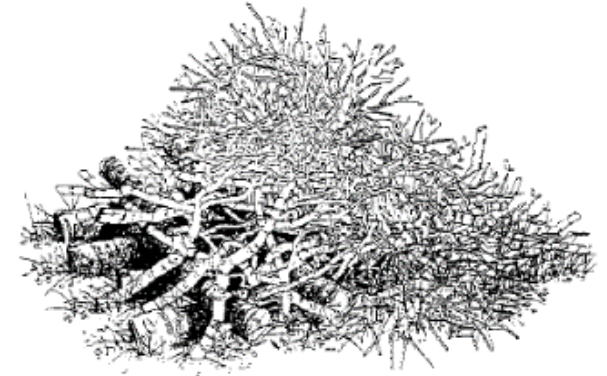 Design Recommendations
These recommendations are intended to help build habitat piles with long term viability. With some maintenance every few years, piles can last as long as 10 years.
Wildlife can use habitat piles of any size, but biologists recommend building piles that are 10 to 12 feet across at the base and about 6 feet tall. To make one, place large poles (at least 4 inches in diameter) on the ground in 4 to 6 perpendicular (crisscross) layers. Larger materials go into the lowest layers that form the base and help provide tunnels for smaller creatures to escape predators.
Add finer material on top – at least 18 inches deep which might require 6 to 10 layers of branches and boughs. Smaller material such as branches and boughs can provide ground nesting birds with forage, cover, and even nest sites.
Aim for 2 to 3 piles per acre, about 100 feet apart.
Pro-tip: Avoid using green (recently pruned) Douglas-fir or ponderosa pine boughs in the piles from January to August to avoid attracting undesirable beetles to your forest – wait for these branches to dry a season before adding them into a pile. 
Constructed Logs
If your forest is short of large down wood, then "construct" some. After a storm event or young stand thinning occurs, bundling small-diameter trees together lengthwise can provide some (but not all) of the functions of larger rotting logs. These constructed logs can help retain moisture, accumulate leaf litter and debris – making for micro-environments that are conducive for fungi and insects and thereby attracting other wildlife.
In areas with a shortage of large down wood, some restoration specialists will place cribs of constructed logs in wetlands and flood plains. The goal is for these constructed logs to provide some of the functions of larger woody debris such as slowing down the movement of water, allowing for nutrient accumulation, and providing roosts and resting areas.
Design Recommendations
Use cribbing to stake out the dimensions for the constructed log. The number of stakes used will depend on the length of log you are building and the materials used. Lay the small diameter poles parallel to each other in the cribbing to shore up the log. Constructed logs should be 12 to 20 feet long and about 2 feet wide. Aim for 2 to 3 "logs" per acre, about 100 feet apart.
Where to Build Habitat Piles and Constructed Logs
Piles and logs can go in areas with different sun exposure or vegetation types.

In areas with little rain and hot summers, wildlife will benefit from habitat piles and constructed logs in shade.

In cooler areas, a habitat pile or constructed log on the edge of a clearing or anywhere with partial sun is beneficial.

If surface water is available (e.g. streams, wetlands, etc.) try to locate habitat piles within 100 feet in order to benefit amphibians and other aquatic species.

Avoid installing habitat piles along roads, near bases of trees, in areas that collect cool air or receive excess water, or where the pile will be a fire hazard.

Aim for 2 to 3 piles or "logs" per acre, about 100 feet apart

.
Examples of habitat piles and constructed logs
Base logs going into the lower levels of a habitat pile in construction.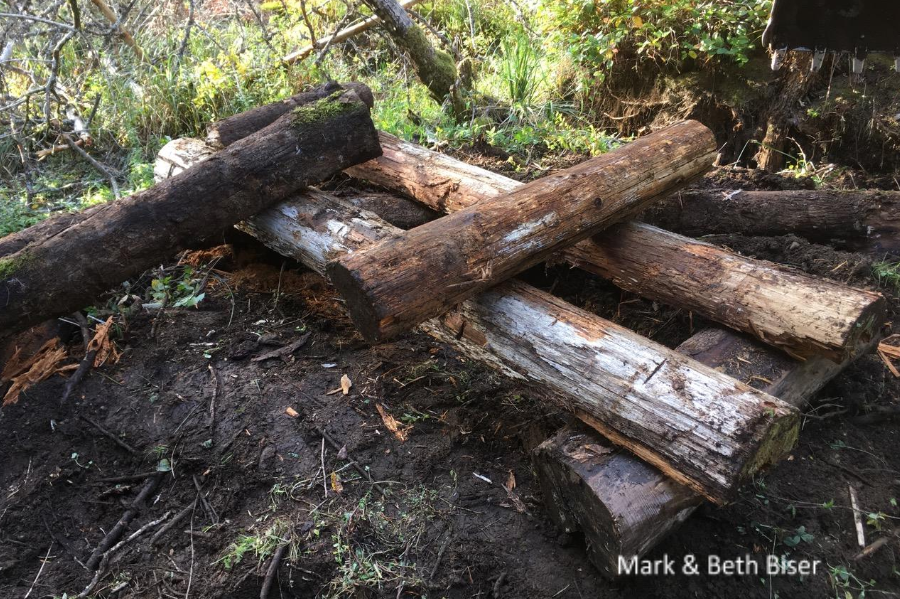 A finished habitat pile with a good 18-24 inches of fine branches and top of the base layers.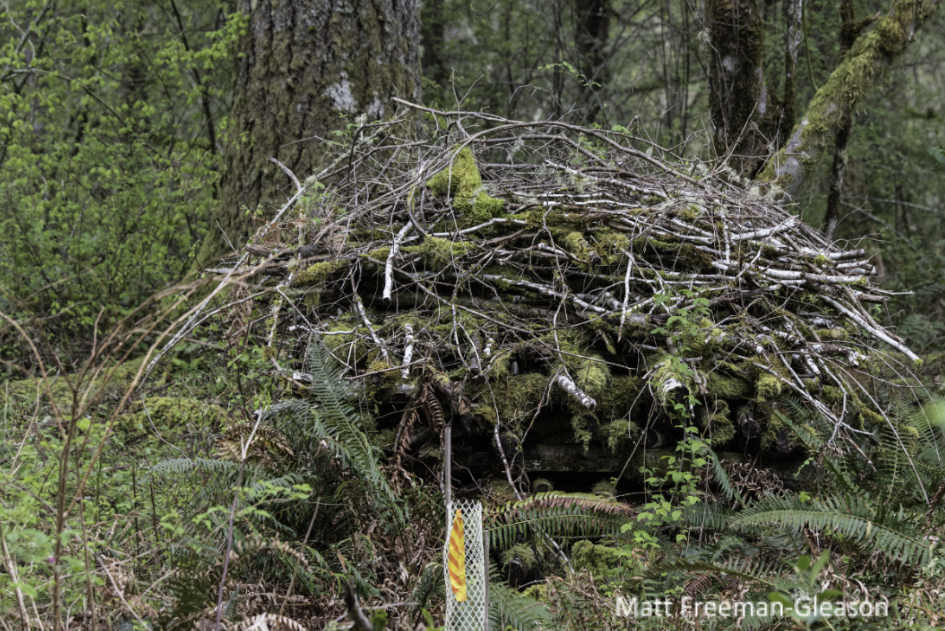 A constructed down log installed in a 4-stake crib as part of a wetland restoration project – in the wet season, this "log" slows the flow of water that flows from the wetland into a nearby stream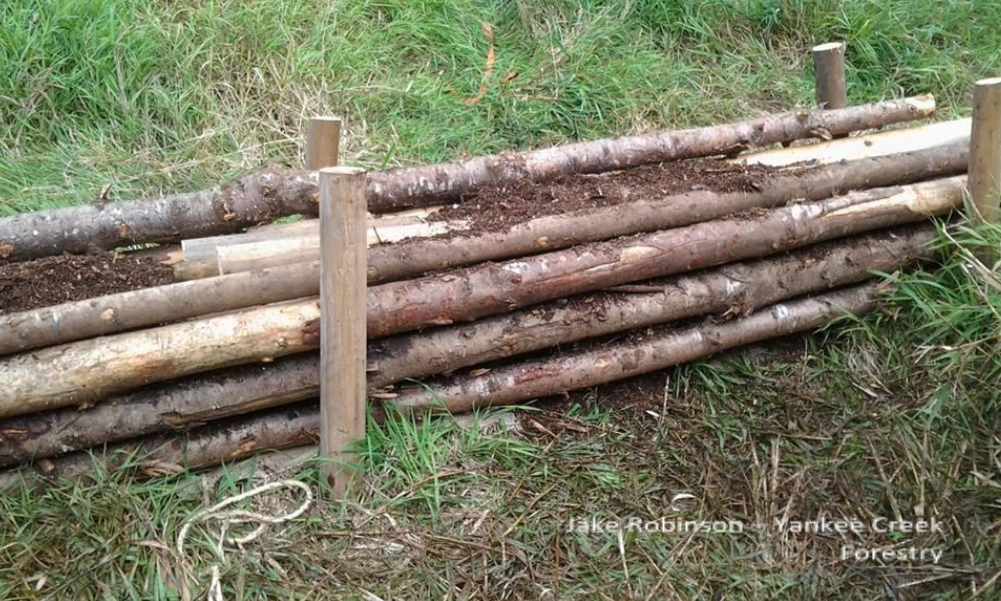 A natural down log – down logs are a source of protection, food, and cover for many small and medium sized animals (micro and macro invertebrates, amphibians, small mammals, birds, insects, and fungi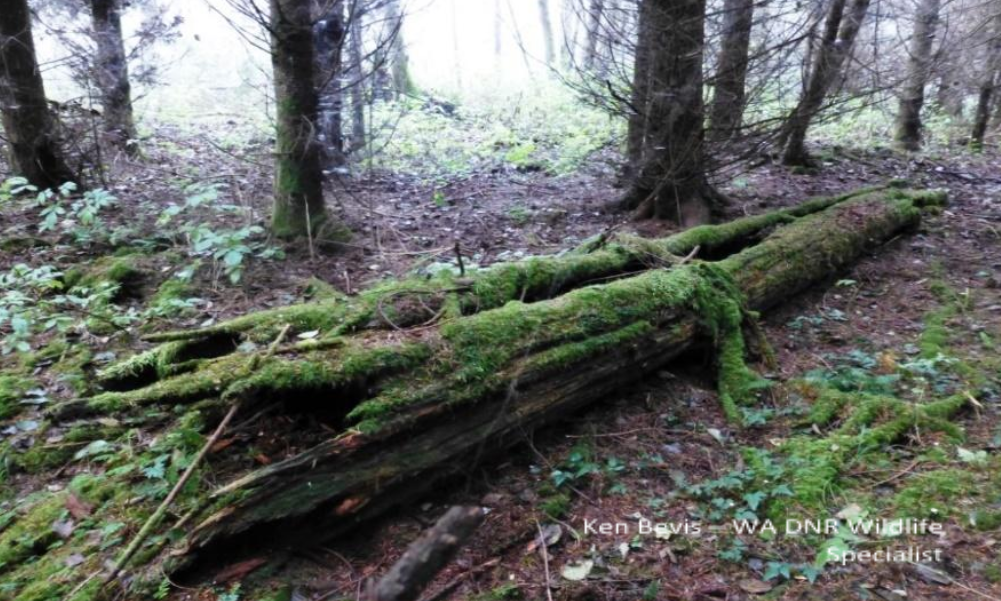 Various stages of decay in snags and down logs
Snags and down logs come in all shapes and forms and varying states of decay. Being able to generally recognize the decay condition of down wood can help with understanding how the down wood is functioning at that time in the forest.
Snags fall into two primary decay class categories:
Hard snags, with the bark is still intact and with firm heart and sapwoods

Soft snags, which may have some bark remaining but with the wood beginning to soften
Down logs fall into five primary categories based on their decay class:
Class 1, bark is still intact and heart and sapwood is still firm

Class 2, log is in contact with ground; bark is beginning to deteriorate and inner wood is soft

Class 3, log is in contact with ground; bark has completely fallen off and log is beginning to become incorporated into the forest floor

Class 4, log is partially buried and wood is very soft

Class 5, log is barely distinguishable from surrounding forest floor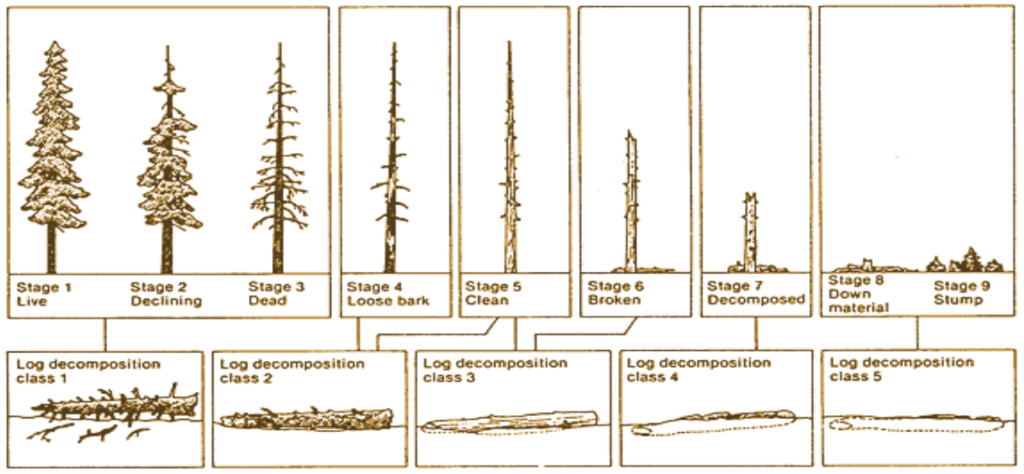 Additional resources
Videos
Book
Landscaping for Wildlife in the Pacific Northwest by Russell Link. 1999. Seattle, WA: University of Washington Press. 320 pp. http://wdfw.wa.gov/living/book/
Blog Posts
Reports and Publications