NNRG's group certificate for forests meeting the Forest Stewardship Council® standards covers more than 190,000 acres across Oregon and Washington. Another 350,000 acres are FSC-certified through the Washington State Department of Natural Resources (South Puget Sound planning unit), EFM, the Coquille Tribe, the Collins Lakeview Forest, Joint Base Lewis-McChord, and Trout Mountain Forestry.
Forests in NNRG's FSC® group certificate are depicted as dark blue circles on the map below; blue squares represent recently certified or pending certifications. For a selection of member profiles, click here. Note: This map was created in 2017 and will be updated periodically.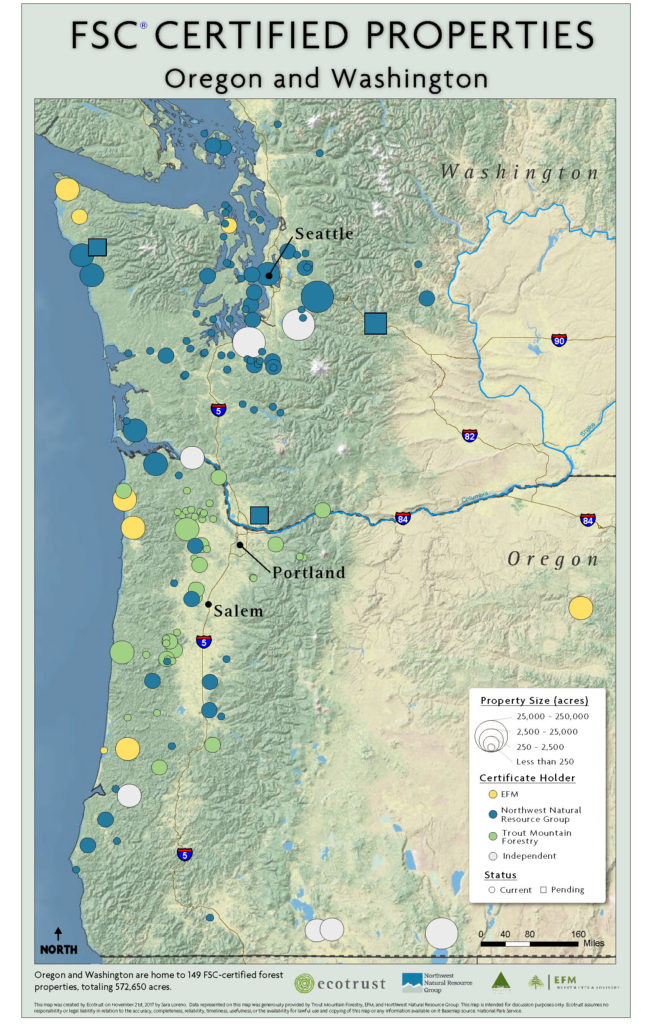 The forest landowners and managers who are part of NNRG's group certificate are listed below.
| | | | | | |
| --- | --- | --- | --- | --- | --- |
| Forest Name | Area (ac) | Forest Location County | Forest Location State | Main products | Sub-code/ref |
| Alder Spring Forest | 70 | Benton | OR, Oregon | Round wood | ASF |
| Allegany Forest Products | 190 | Coos | OR, Oregon | Round wood | AFP |
| Aponte Family Forest | 19 | Pierce | WA, Washington | Round wood | APO |
| Ayers Last Stand/Patton Family Forest | 210 | Thurston | WA, Washington | Round wood | ALS |
| Back40 Quinault Forest LLC | 40 | Grays Harbor | WA, Washington | Round wood | B40 |
| Blakely Island Timberland | 2,231 | San Juan | WA, Washington | Round wood | BIT |
| Bowling Family Forest | 30 | Linn | OR, Oregon | Round wood | BOW |
| Burn Family Forest | 9.8 | San Juan | WA, Washington | Round wood | BRN |
| Butler Family Forest | 80 | Thurston | WA, Washington | Round wood | BFF |
| Camp Myrtlewood – Church of the Brethren | 124 | Coos | OR, Oregon | Round wood | CM |
| Camp River Ranch – Girl Scouts of Western Washington | 400 | King | WA, Washington | Round wood | RR |
| Camp Robbinswold – Girl Scouts of Western Washington | 500 | Mason | WA, Washington | Round wood | ROB |
| Camp Sealth – Camp Fire in Central Puget Sound | 380 | King | WA, Washington | Round wood | CS |
| Camp Seymour – YMCA | 87 | Pierce | WA, Washington | Round wood | CSY |
| Carbon Forest Foundation | 40 | Skagit | WA, Washington | Round wood | CFF |
| Cedar Grove Farm | 109 | Curry | OR, Oregon | Round wood | CGF |
| Cedar Row Farm | 128.8 | Columbia | OR, Oregon | Round wood | CRF |
| Central Cascades Forest LLC | 46,027 | Kittitas & Yakima | WA, Washington | Round wood | CFF |
| Chuljian Family Forest | 82 | Jefferson | WA, Washington | Round wood | CHU |
| City of Astoria – Bear Creek Watershed | 3,694 | Clatsop | OR, Oregon | Round wood | COA |
| Clark County Public Works | 4,504 | Clark | WA, Washington | Round wood | CC |
| Clearwater Forest Reserve – The Nature Conservancy in Washington | 5,754 | Jefferson | WA, Washington | Round wood | CFR |
| Clyde Tree Farm | 150 | Kitsap | WA, Washington | Round wood | CTF |
| Crystal Lake Tree Farm | 326 | Snohomish | WA, Washington | Round wood | CL |
| Dale Family Forest | 40 | Grays Harbor | WA, Washington | Round wood | DFF |
| Digger Mountain Forestry | 640 | Lincoln | OR, Oregon | Round wood | DM |
| Droscher Family Forest | 34 | Mason | WA, Washington | Round wood | DRO |
| Duniho-Tan Family Forest | 19 | King | WA, Washington | Round wood | DUN |
| Ellsworth Creek Preserve – The Nature Conservancy in Washington | 7,897 | Pacific | WA, Washington | Round wood | TNC |
| Elmer-Gardner Family Forest | 10 | Jefferson | WA, Washington | Round wood | EGF |
| Evergreen Land Trust | 80 | Whatcom | WA, Washington | Round wood | ELT |
| Ferris Family Forest | 26 | Pierce | WA, Washington | Round wood | FF |
| Findlay Family Forest | 35 | Island | WA, Washington | Round wood | FIN |
| Gratzer Family Forest | 40 | Pierce County | WA, Washington | Round wood | GRA |
| Great Peninsula Conservancy | 444 | Kitsap, Mason, Pierce | WA, Washington | Round wood | GPC |
| Hanson Family Forest | 171.4 | King & Thurston | WA, Washington | Round wood | RDH |
| Heartland Forest | 265 | Curry | OR, Oregon | Round wood | HEA |
| Heernett Environmental Foundation | 120 | Thurston | WA, Washington | Round wood | HF |
| High Grove | 26 | Grays Harbor | WA, Washington | Round wood | HG |
| Himmelbjerget | 24 | Pierce | WA, Washington | Round wood | H |
| Hogenson Family Forest | 18 | King | WA, Washington | Round wood | HOG |
| Hyla Woods | 966 | Washington | OR, Oregon | Round wood | HW |
| Jay/Johani Family Forest | 11.8 | Jefferson | WA, Washington | Round wood | JJF |
| Jefferson Land Trust | 199 | Jefferson | WA, Washington | Round wood | JLT |
| Kess Family Forest | 50 | Pacific | WA, Washington | Round wood | KFF |
| King County Department of Natural Resources & Parks – Island Center Forest | 441 | King | WA, Washington | Round wood | ICF |
| King County Department of Natural Resources & Parks – Taylor Mountain Forest | 1692.50 | King | WA, Washington | Round wood | KC1 |
| King County Department of Natural Resources & Parks – Black Diamond Open Space | 799 | King | WA, Washington | Round wood | KC2 |
| King County Department of Natural Resources & Parks – Henry's Ridge Open Space | 248 | King | WA, Washington | Round wood | KC3 |
| King County Department of Natural Resources & Parks – Ravensdale Retreat Natural Area | 153 | King | WA, Washington | Round wood | KC4 |
| King County Department of Natural Resources & Parks – Cemetery Reach Natural Area | 46 | King | WA, Washington | Round wood | KC5 |
| Kopel Family Forest | 40 | Pierce | WA, Washington | Round wood | KOP |
| Log Rhythms LLC | 73 | Thurston | WA, Washington | Round wood | AFF |
| Maxon Family Forest | 20 | King | WA, Washington | Round wood | MAX |
| Nisqually Land Trust | 482.7 | Thurston | WA, Washington | Round wood | NLT |
| Norseman Timber Company | 140 | Lewis | WA, Washington | Round wood | NTC |
| North Cascades Buddhist Priory/Jizo Spring Buddhist Supplies | 258.5 | Pierce | WA, Washington | Round wood | NCB |
| Northwest Trek | 420 | Pierce | WA, Washington | Round wood | NT |
| Northwest Watershed Institute | 179.8 | Jefferson | WA, Washington | Round wood | NWI |
| Oak Basin Tree Farm | 1,004 | Linn | OR, Oregon | Round wood | OTF |
| O'Neill Pine Company | 2,232 | Lewis & Thurston | WA, Washington | Round wood | OPC |
| Pair Family Forest | 10 | King | WA, Washington | Round wood | PA |
| Paz Forestry RLT | 35 | Lane | OR, Oregon | Round wood | PAZ |
| Rainbow Farm | 53 | Douglas | OR, Oregon | Round wood | RF |
| Ryan Family Forest | 38 | Pierce | WA, Washington | Round wood | RYF |
| S & J's HappyTree Tree Farm | 15 | Thurston | WA, Washington | Round wood | SNJ |
| San Juan County Land Bank – Turtleback Mountain | 1,572 | San Juan | WA, Washington | Round wood | SJC |
| Satsop Business Park | 1,200 | Grays Harbor | WA, Washington | Round wood | SAT |
| Seattle Parks & Recreation | 2,342.6 | King | WA, Washington | Round wood | SPR |
| Seattle Public Utilities | 98,831 | King | WA, Washington | Round wood | SPU |
| Shady Grove Orchards | 57 | Lewis | WA, Washington | Round wood | SGO |
| Skokomish Indian Tribe | 2,083 | Mason | WA, Washington | Round wood | SIT |
| Souers Family LLC | 21 | Pierce | WA, Washington | Round wood | SF |
| Still Waters Farm | 47 | Mason | WA, Washington | Round wood | SWF |
| Sunitsch Canyon LLC/Tierra Learning Center | 200 | Chelan | WA, Washington | Round wood | SC |
| Surface Road Associates | 47 | Island | WA, Washington | Round wood | SRA |
| Taylor-Lenon Limited Partnership Family Forest/Gopher Valley Botanicals | 18 | Yamhill | WA, Washington | Round wood | TLF |
| Tree Shepherd Woods | 12 | Thurston | WA, Washington | Round wood | TSW |
| Two Cats Timber | 200 | Grays Harbor | WA, Washington | Round wood | TCT |
| Two Frog Bog | 19 | Pierce | WA, Washington | Round wood | TFB |
| Walker Creek Ecoforestry | 360 | Coos | OR, Oregon | Round wood | BOG |
| Wapiti Woods LLC | 18 | King | WA, Washington | Round wood | WAP |
| Weber Family Forest | 65 | Lewis | WA, Washington | Round wood | WEB |
| Wetset Enterprises | 103 | Lewis | WA, Washington | Round wood | WE |
| Wilcox Farms | 827 | Pierce | WA, Washington | Round wood | WF |
| Wild Thyme Farm | 120 | Grays Harbor | WA, Washington | Round wood | WTF |
| Wildcat Creek Tree Farm | 65 | Grays Harbor | WA, Washington | Round wood | WAT |
| Williamson Family Farm Trust | 102 | Cowlitz | WA, Washington | Round wood | WFF |
| Zena Forest | 1,333 | Polk | OR, Oregon | Round wood | ZF |
Total Members:
83
Total FSC certified Acres:
194,394.9
Information updated June 11, 2020