The Conservation Stewardship Program (CSP) can help fund your forest stewardship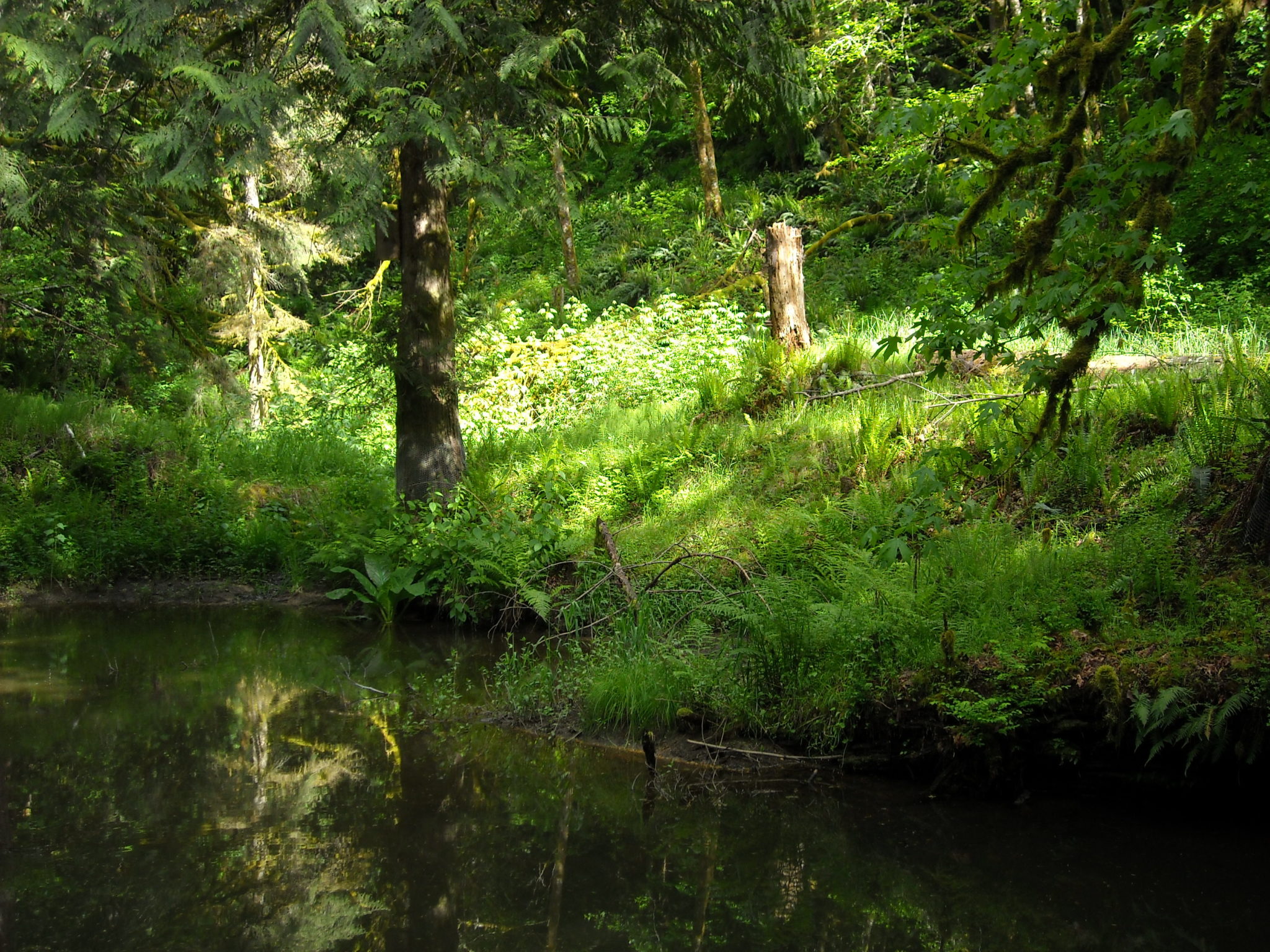 THE CONSERVATION STEWARDSHIP PROGRAM PROVIDES FINANCIAL INCENTIVES TO SUPPORT ONGOING FOREST STEWARDSHIP
Forest stewardship projects like creating fuel breaks, building wildlife piles, thinning dense stands, or reforesting can improve the health of your forest — but can also take a bite out of your wallet. Thankfully, a number of government funding programs are available to help forest owners and forest managers cover the costs of their stewardship work. 
If you're a beginning landowner or new to forest stewardship activities, the Environmental Quality Incentives Program (EQIP) is a great place to start. EQIP is a cost-share reimbursement program administered by the federal Natural Resource Conservation Service that can help pay for various stewardship activities — everything from hiring someone to write a forest management plan for your forest, to creating snags and habitat piles, to planting wildlife hedgerows. You can learn more about EQIP, and how to apply for it, on NNRG's website here.
But for some forest owners who have been stewarding their forests for a longer time, the Conservation Stewardship Program (CSP) may be a convenient additional source of funding for ongoing stewardship activities. This article explains what CSP can fund, and who can apply.
WHAT'S CSP?
Like EQIP, the Conservation Stewardship Program (CSP) is run by the Natural Resource Conservation Service (NRCS). It can reward forest owners or managers for conservation activities — for example, preventing soil erosion, improving water quality, and protecting wildlife — with annual payments. 
To apply for CSP funding, a forest owner (or manager) must answer a number of questions about their existing stewardship activities — called "conservation practices" — and what sorts of activities they may implement in the future. If the NRCS determines the forest owner can receive CSP funding for some of their conservation practices, the forest owner can enter into a five-year CSP contract with the NRCS. The contract requires that the forest owner continue their existing level of stewardship and conservation activities and begin at least one new conservation practice, called an "enhancement". In exchange, NRCS will pay the forest owner a specified amount for the enhancement activity. Forest owners can choose to implement more than one enhancement. CSP also provides limited cost-share funding for traditional conservation practices that are typically funded through EQIP, but the payment rates tend to be much lower than EQIP.
HOW MUCH CAN CSP FUND?
All CSP contracts receive an annual minimum payment of $1,500 per year. The maximum annual payment is $50,000, but most contracts are significantly less than that. CSP funding is calculated according to the number of acres that benefit from the  conservation practice; a sample of CSP payment rates and conservation practices for Washington State in 2022 is below. Payment rates vary by state, and this list of practices is not exhaustive. Up-to-date payment rates for Washington and other states can be found here.
1 Rates can vary depending on treatment type. Please check current EQIP & CSP Payment Schedules on the USDA's website.
*First payment amount listed refers to normal payment rate. Second payment rate is for forest owners who qualify as historically underserved (e.g. minorities, new/beginning forest owner, etc.).
**Wildlife structures are paid by the unit, not by the acre.
A sample of payment rates for enhancement activities for forestlands is below. Remember, an enhancement is the additional activity you must complete as part of your CSP contract. This list is also not exhaustive, and updated rates can be found here.
When a landowner applies for CSP funding, the NRCS will typically run the conservation practices they want to implement through the funding schedule for both EQIP and CSP to see which program pays the best rate over a five year contract.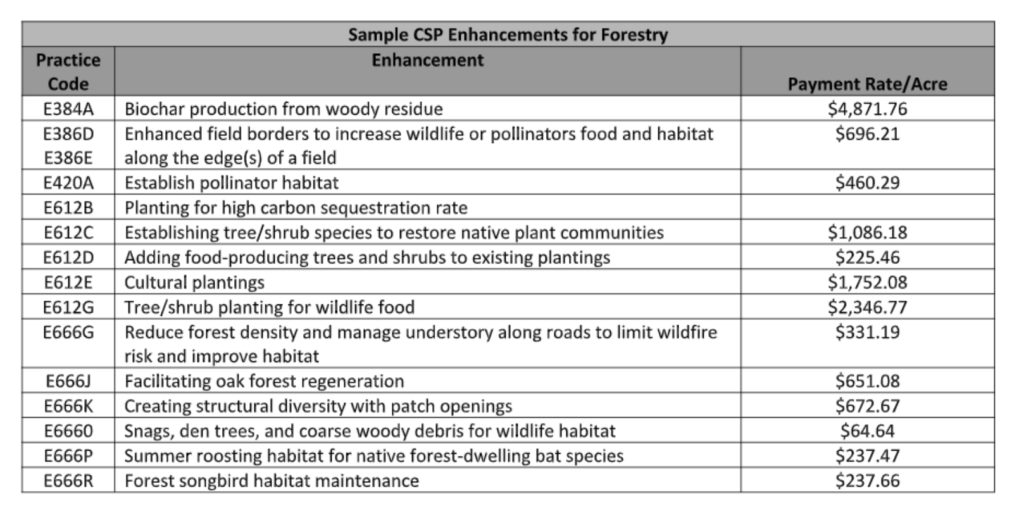 WHAT ARE THE ELIGIBILITY REQUIREMENTS FOR CSP?
Ultimately, the NRCS determines who can receive CSP funding. However, the following conditions must be met for a forest owner or manager to be eligible: 
You must have records of previous stewardship/conservation practices. All recent management activities must be documented in some fashion.
You must meet or exceed protections for at least two of eight Resource Concerns for forestland. Loosely defined, a "resource concern" is an environmental/natural resource that is degraded, or could be degraded. A list of resource concerns for Washington State is listed here, and here is the accompanying zone map. A list of resource concerns for Oregon by zone is listed here.
You must make at least $1,000 in income from your forest per year in order to be considered a farmer by the government. You must show that you income from your forest, for example from harvesting or leasing your forest to greens pickers. 
You must be on record with the Farm Service Agency (FSA). If you have ever received loans or other kinds of payments from the USDA, then you are registered with the FSA. If not, you can register with the FSA at the same time as go to an NRCS office to apply for the CSP. The NRCS and FSA offices are usually in the same building, at an FSA Service Center.
You must have control of the land for the duration of the CSP contract (5 years). When you apply, you must be able to show one of the following as proof: 1) a deed or other proof of ownership of the land, or 2) a written lease agreement, signed by you and the owner of the land, or 3) another agreement or "legal conveyance".
You must be in compliance with "highly erodible land" and "wetland conservation" provisions. These are wetland and soil erosion standards that you are likely already compliant with. To prove compliance, you'lll need to fill out "Form AD1026, Highly Erodible Land Conservation (HELC) and Wetland Conservation (WC) Certification". The form is available in Appendix C here. 
You must earn less than $1 million per year. You'lll need to fill out "Form CCC-926, Average Adjusted Gross Income (AGI) Statement" to prove their income. This form can be found in Appendix B here.
It's also worth noting that you may have a greater chance of receiving a CSP contract if you qualify as a "beginning, limited resource, or socially disadvantaged farmer or rancher," according to the USDA (forest owners who earn income from their forests are considered farmers). 
You are a Beginning Farmer if: your operation is not more than 10 years old
You are a Limited Resource Farmer if: 
You made less than $100,000 per year from your forestry operation
 You made money at or below the federal poverty level for a family of four, or made less than 50% of the median county income
You are a Socially Disadvantaged Farmer or Rancher if: You belong to a nationality or social group that has been historically discriminated against.
WHERE AND WHEN CAN I APPLY FOR CSP?
You apply for CSP using a paper application form, available here, and then submit it to your local NRCS office. Applications are accepted year-round, but each year there are deadlines to apply for funding for that fiscal year. These deadlines vary by state, and are not at the same time every year. We will update the deadlines for Washington and Oregon below as they are made public. 
Deadlines for Fiscal Year 2022 funding: 
Washington: March 31, 2022
Oregon: March 18, 2022
GET STARTED – CONTACT YOUR LOCAL NRCS OFFICE!
The first step in applying for CSP is getting in touch with your local NRCS resource conservationist to find out what your options are. Applying for CSP can mean spending some initial time wading through some forms, but you might be rewarded with a continuous source of funding to help you steward your land. After an initial CSP contract is granted, it's gets easier to apply for extensions and additional funding, either from CSP or other NRCS financial assistance programs, because you're already in the system.