The (Life and) Death Cycle of the Salmon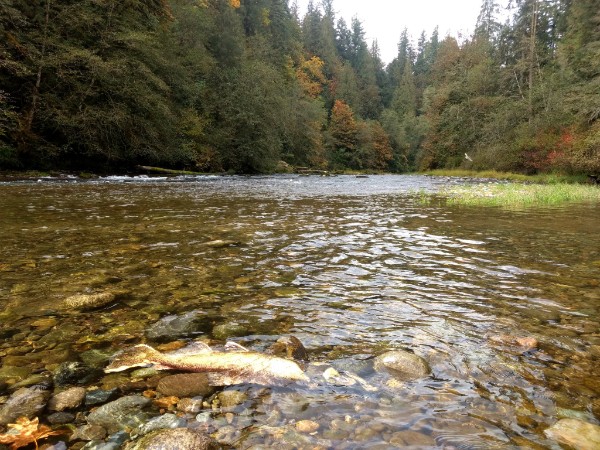 If you're hoping to spot salmon in the forest this season, a creek or river is your best bet. But if you limit your searches to fin-spotting at the water's edge, you're missing out on the full experience. Don't forget to look to the trees.
Many of us can recite the life cycle of the Pacific salmon by heart. It's practically a Pacific Northwest badge of honor, and it goes something like this: Pacific salmon begin their lives in freshwater streams and rivers, voyage to the Pacific Ocean and back, and then spawn and die in the very same waters where they started. 
What we often fail to appropriately make a fuss about is the salmon death cycle—what happens to salmon after they die. 
As expected, the death cycle opens with the death of the salmon after it spawns. Its decomposing body supplies the soil around the river with nutrients—nitrogen in particular, is an important one—which are readily absorbed by trees and understory plants.
Fortified with fishy energy, riverside plants do a lot to help young salmon. While alive, the plants shade and cool the water and attract insects that salmon feed on. Fallen trees create pools and protected areas in which young salmon can hide from predators. As those trunks decompose they return their nutrients back to the river, where they further contribute to the growth of young salmon. Thus the death cycle ends and the life cycle begins.
For more reading and for beautiful photographs of the salmon death cycle, see this article from North Coast Land Conservancy: Our Forests Are Made of Salmon.