TIME TO START THINKING ABOUT 2024 EQIP PROJECTS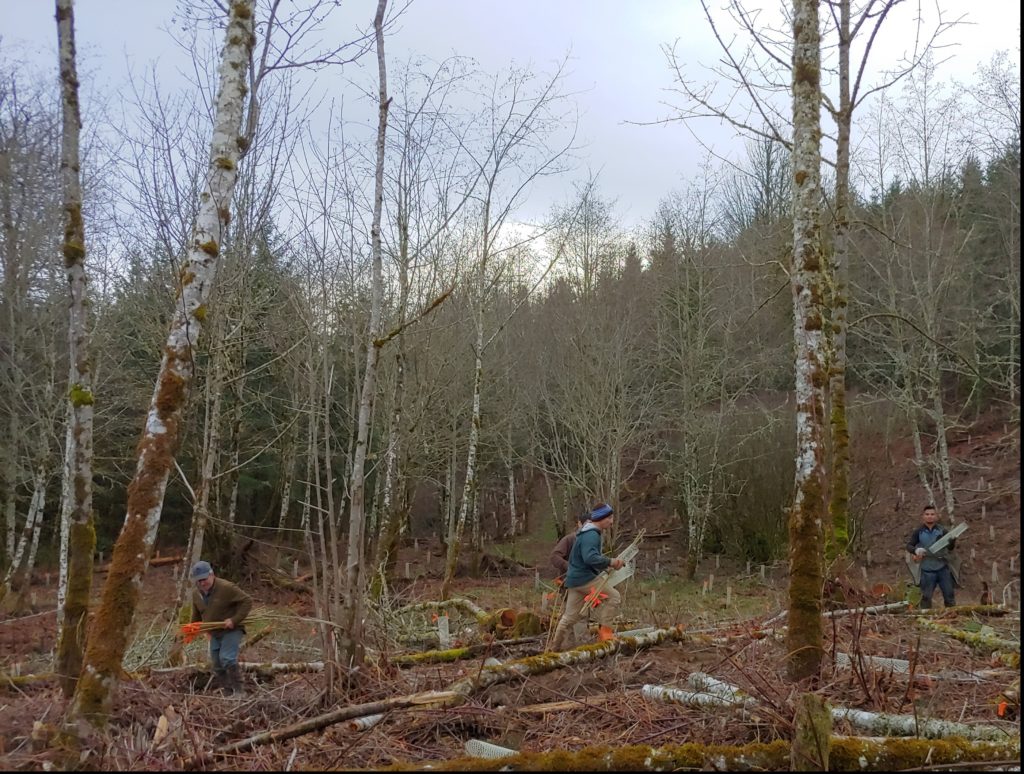 The Environmental Quality Incentives Program (EQIP) is a technical and financial assistance program managed by the USDA's Natural Resources Conservation Service. EQIP helps forest owners access technical expertise to develop and complete conservation practices that improve the health and productivity of their land.
The NRCS accepts applications for EQIP on a continuous basis, but there are cutoff dates to receive funding for a given year. Although application deadlines for FY 2024 Oregon and Washington EQIP funding have not been announced yet, they are likely to land sometime in Fall 2023.
If you are a first-time applicant you'll need some time to gather the information and materials you'll need for a strong, complete application. We recommend starting now!
EQIP can help pay for your forest stewardship projects
EQIP funding is available for a variety of forest stewardship projects. NNRG members have used EQIP funding and assistance to pay for having a forest management plan written for their forest, conduct pre-commercial thinnings, remove and control invasive plants, create fire breaks, install wildlife nesting boxes, and even restore entire wetlands.
Many common forest stewardship activities can be made less expensive through EQIP funding. The rules and availability of cost-share funding from EQIP differ between Oregon and Washington. Each state may have differing funding priorities. Below are some of the types of projects that EQIP can help pay for:
Developing a comprehensive forest management plan
Reducing fuels
Planting native trees and shrubs
Removing invasive species
Pre-commercial thinning a forest
Creating snags, downed wood and habitat piles
Treating forest slash
Pruning
Reducing erosion and sediment to streams
Creating fish passage projects
Building bird and bat nesting/roosting boxes
Planting wildlife hedgerows
Improving pollinator habitat
A sample of EQIP forest conservation practices and the rates that EQIP can pay for them is available here.
Applying for EQIP
If you have applied to EQIP in the past and received EQIP funding, any future applications will likely take a lot less work because you've already met some of the NRCS requirements and provided much of the required paperwork.
As a first-time applicant to EQIP, you'll need to do a little more planning and paperwork. It'll all be worth it if you secure EQIP assistance!
Step 1: Check Your Eligibility
The first step in applying for EQIP funding really is to contact your local NRCS office and meet with a conservation planner and determine if you are eligible for EQIP. Find your local NRCS service center here.
Step 2: Develop a plan & complete the application
If you are eligible, you'll work with the conservation planner to develop a conservation plan. You'll likely need to schedule a time for them to visit your property to discuss your goals and review any "resource concerns". Loosely defined, a "resource concern" is an environmental/natural resource that is degraded, or could be degraded. A list of resource concerns for Washington State is listed here, and here is the accompanying zone map. A list of resource concerns for Oregon by zone is listed here.
Following the site visit, the conservation planner will develop a conservation plan that includes a variety of conservation practices or activities to address the resource concerns and management goals discussed. They'll work with you to fill out a few required forms, including CPA 1200 (the Conservation Program Application Form) and AD 1026 (which basically ensures that you agree that you do not and will not produce agricultural products on wetlands or highly erodible land).
Step 3: Submit your application
After you have all your forms completed, you'll submit your application to your local NRCS service center. NRCS staff will review all of the applications and rank them according to local and state-wide conservation priorities, the cost-effectiveness and impact of the conservation activity plan, and the needs of applicants.
Get started – Contact your local NRCS office!
The first step in applying for EQIP is getting in touch with your local NRCS resource conservationist to find out what your options are. Applying for EQIP can mean spending some initial time wading through some forms, but you might be rewarded with a source of funding to make forest stewardship projects you already had planned a little more affordable – or even free. After an initial EQIP contract is granted, it's gets easier to apply for additional funding, either from EQIP or other NRCS financial assistance programs, because you're already in the system.
Visit the official NRCS website to learn more about EQIP in Washington or EQIP in Oregon.