A Church's Inheritance and EQIP
Bethlehem Lutheran Church forestland, Belfair, WA
Story told by Neva Knott, edited by NNRG
What would you do if you inherited over one hundred acres of forestland in need of restoration? Bethlehem Lutheran Church in Marysville, WA was faced with this quandary when a member of the congregation bequeathed 132 acres of Hood Canal forestland to the Church.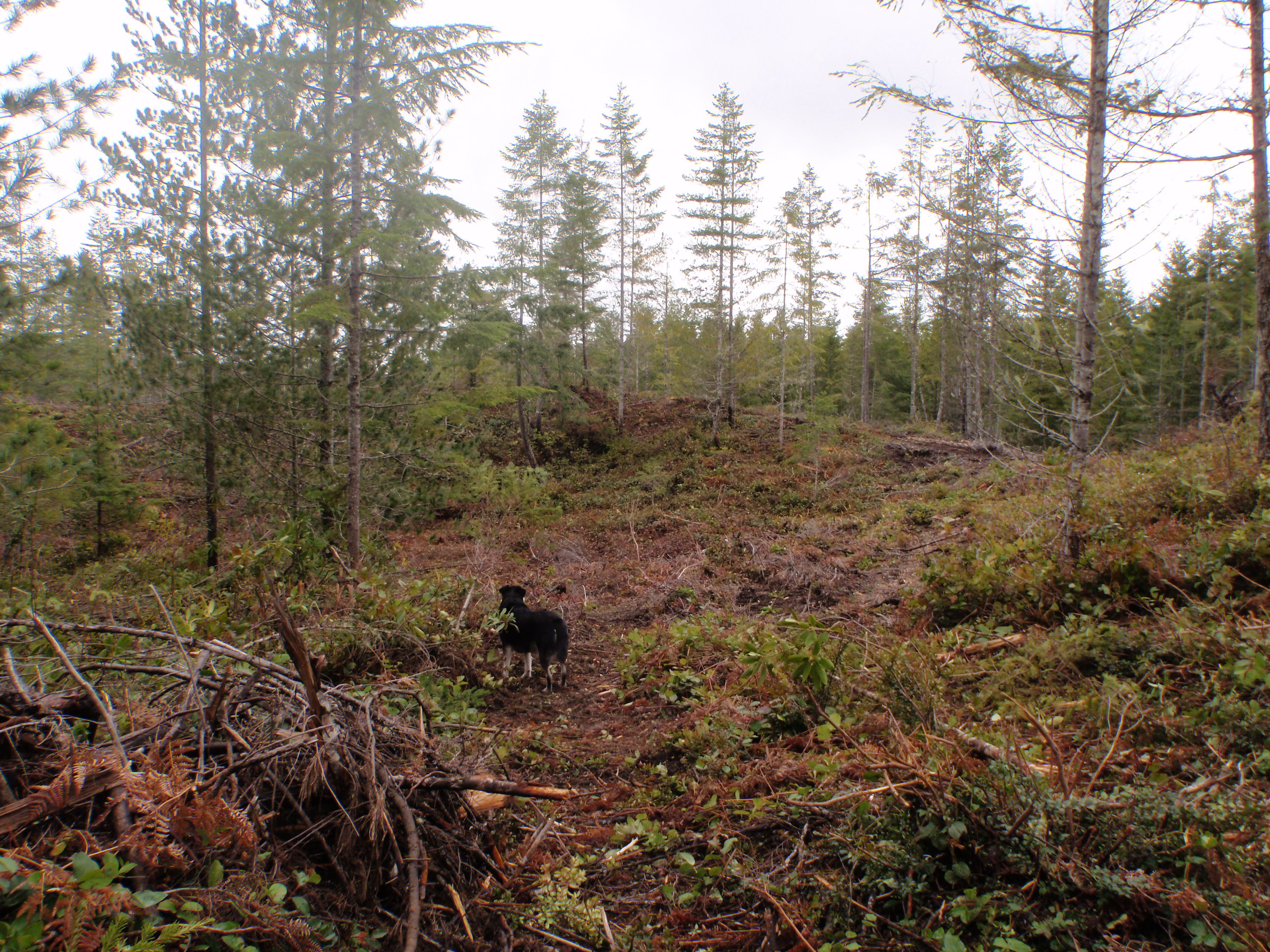 The land had been logged heavily in the 1970s and received minimal attention in the interim years. This lack of replanting and management of timberland on productive soils resulted in a tangle of brushy understory and densely growing trees; with nothing growing to marketable proportion. The benefactor had placed no restrictions on the use of the land, but hoped it would assist the Church monetarily. Roger Issacson, a spokesman of the Bethlehem Lutheran congregation, decided to take on the challenge of restoring the forest's ecological functions and economic value.
Roger grew up close to Belfair and spent his youth fishing and hunting around Hood Canal. His knowledge of the local forests, coupled with the benefactor's wishes inspired him to transform the property into a forest that produces high quality wood products among other ecosystem services. For professional assistance, Roger hired John Zapel of Westek Forest, Ltd., a logging consultant and restoration forester. John determined the land had overgrowth from previous clear-cut activity and recommended thinning the existing tree stands, diminishing understory brush, and extensive replanting. To implement this plan, John guided  Bethlehem Lutheran Church to Northwest Certified Forestry (NCF).
Director of Forestry Kirk Hanson aided the Church in accessing the Environmental Quality Incentives Program. EQIP is a federally funded cost share program run by the Natural Resources Conservation Service  which provides owners of forest production land with technical and financial assistance to enhance the ecological values of their land. Bethlehem Lutheran was able to secure EQIP funding for almost all of their current projects. With these funds, the Church began to implement their restoration and management plan. They will plant 25,000 trees, including Douglas-fir, cedar, and hemlock in existing clear-cut areas, along old logging skid trails, and other gaps on the woodlot. The goal is to create a rotational growth pattern that allows for selective logging every ten years and a two-fold increase in the growth-rate. If all goes according to plan, John estimates that in eight years, 40 acres will be ready to log.
Even though the project focuses on long-term objectives, EQIP has proved to be immediately profitable for Bethlehem Lutheran. The sale of logs from pre-commercial thinning has not only offset the cost of laying access roads and implementing an initial phase of restoration, but has also generated a $60,000 profit. This money has since been reinvested into the next phases of forest management.
Roger says that EQIP "is not a get-rich-quick opportunity," however, it is in favor of long-term, sustainable management. He states that true profit will arise in about eight years, after which intensive restoration will be replaced by steady forest maintenance.
Bethlehem Lutheran is excited to involve their congregation in the future of the land. Church members will have the opportunity to purchase a tree and watch it grow, while youth will be able to help with the harvesting and marketing of non-timber products like salal, cedar boughs, and mountain huckleberry. The youth minister also hopes to use the land for retreats.
When asked what the congregation's response was to the woodlot project, Roger cited "The Parable of Talents," a biblical story of a servant who doubles the worth of property entrusted to him by his master. "They [the congregation] have no problem", he says, "We're going to manage the Church's land well."