Evergreen Land Trust, Deming, WA
Ever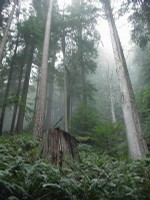 green Ecoforestry is a program of the Evergreen Land Trust. ELT uses selective and low impact logging to limit ecosystem impacts while producing lumber and finished wood products. We steward over 200 acres of second growth forest upslope from the South Fork Nooksack River in Deming , WA .
Our forests are dominated by 50-80 year old hemlock, cedar and Douglas-fir interspersed with stands of mature alder and maple. We focus our stewardship on maintaining slope stability, protecting riparian forests and stimulating the development of old forest conditions.
Wood products from Evergreen's forests are found in projects across the Northwest and beyond. Product examples include cedar boardwalks, fir decking, alder paneling, maple trim and hemlock framing. Evergreen Ecoforestry is a project of the ELT, a non-profit organization supporting sustainable land and community stewardship. Larger custom orders are welcome.