Forest Certification is a Global Movement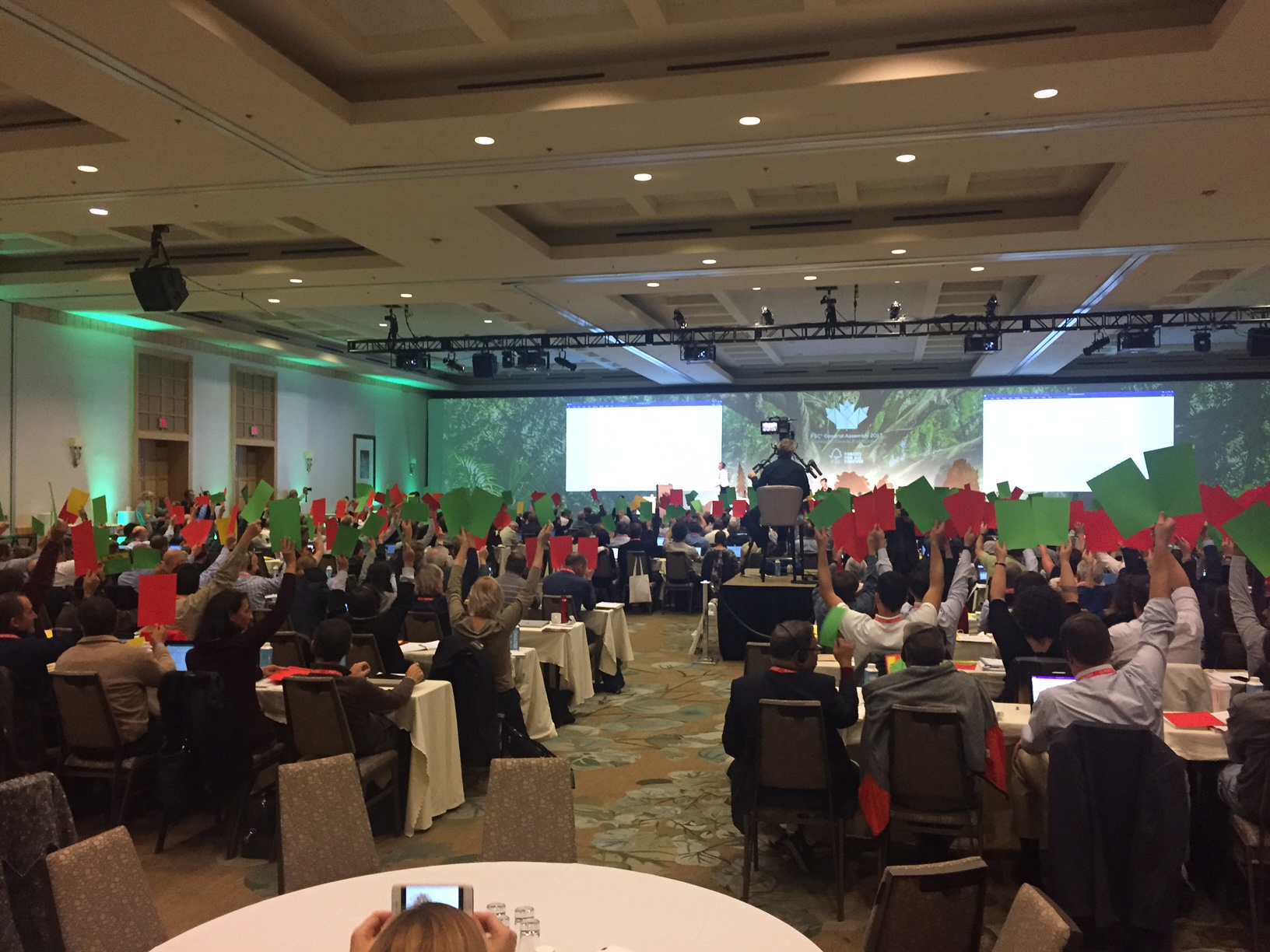 I'll admit that I traveled to the worldwide General Assembly of the Forest Stewardship Council meeting last month in Vancouver, BC with a smidgen of skepticism.
As I've re-immersed myself in ecological forestry since taking the helm at NNRG in June, I've been chagrined to learn that 15- and 20-year-old challenges are still dogging the Forest Stewardship Council® (FSC®) in the Pacific Northwest: sparse interest from lumber mills and the difficulty connecting consumer demand with landowner supply — the so-called chicken-and-egg problem of certified wood markets.
Of course, FSC certification has other kinds of value for our certified members. It represents third-party validation of the quality of their practices — in some cases, helping to reinforce their "social license" to harvest timber on lands that are prized by their communities mainly for other values such as municipal water supply or summer-camp recreation.
As the holder of a group certificate, NNRG also provides expert advice to our certified members, helping them keep their practices abreast of new developments in ecological forestry. And at least one of our certified members secured a small ($50 per thousand board-foot) premium for the sale of their alder logs this year, thanks to the certified status of their forest.
But my time at the General Assembly helped me see FSC in a larger context. It's part of a broad-based, global effort to make forest management healthy for the local environment and beneficial to communities that depend on the forest, while remaining economically worthwhile for forest owners and workers. Worldwide, over 480 million acres are certified, the equivalent of about three thousand NNRGs.
In Vancouver, over 600 delegates from more than 80 countries earnestly debated ways to make certification fairer, more effective, and even more transparent than it already is. With proceedings translated simultaneously between English, Spanish and French — and some delegates from Africa and Latin America opting to wear their traditional attire — the General Assembly was a planetary gathering from head to foot.
Even here on the West Coast, ecological forestry is an international affair. At a reception hosted by our partner organization Ecotrust and their north-of-the-border affiliate Ecotrust Canada, we unveiled a jointly produced map of the 4 million acres of FSC-certified forests in Oregon, Washington, and BC. It was heartening to see how many light-green circles (denoting forests certified through NNRG) were sprinkled across the region — and that on top of those, hundreds of thousands of acres are certified by our colleagues at Ecotrust Canada, EFM, and Trout Mountain.
South of the 49th parallel, six NGOs — NNRG, Sustainable Northwest, Ecotrust, Pinchot Institute for Conservation, Washington Environmental Council, and the US branch of FSC — are collaborating on plans to make FSC wood more attractive and available. We've formed working groups on market development, supply-chain expansion, and messaging. We do face some long-standing challenges, but through connections forged in Vancouver and beyond, we are addressing them together.
Observations from Seth Zuckerman, Executive Director, on his time at the recent FSC® General Assembly