From Tinderbox to Fire-Resilient Forest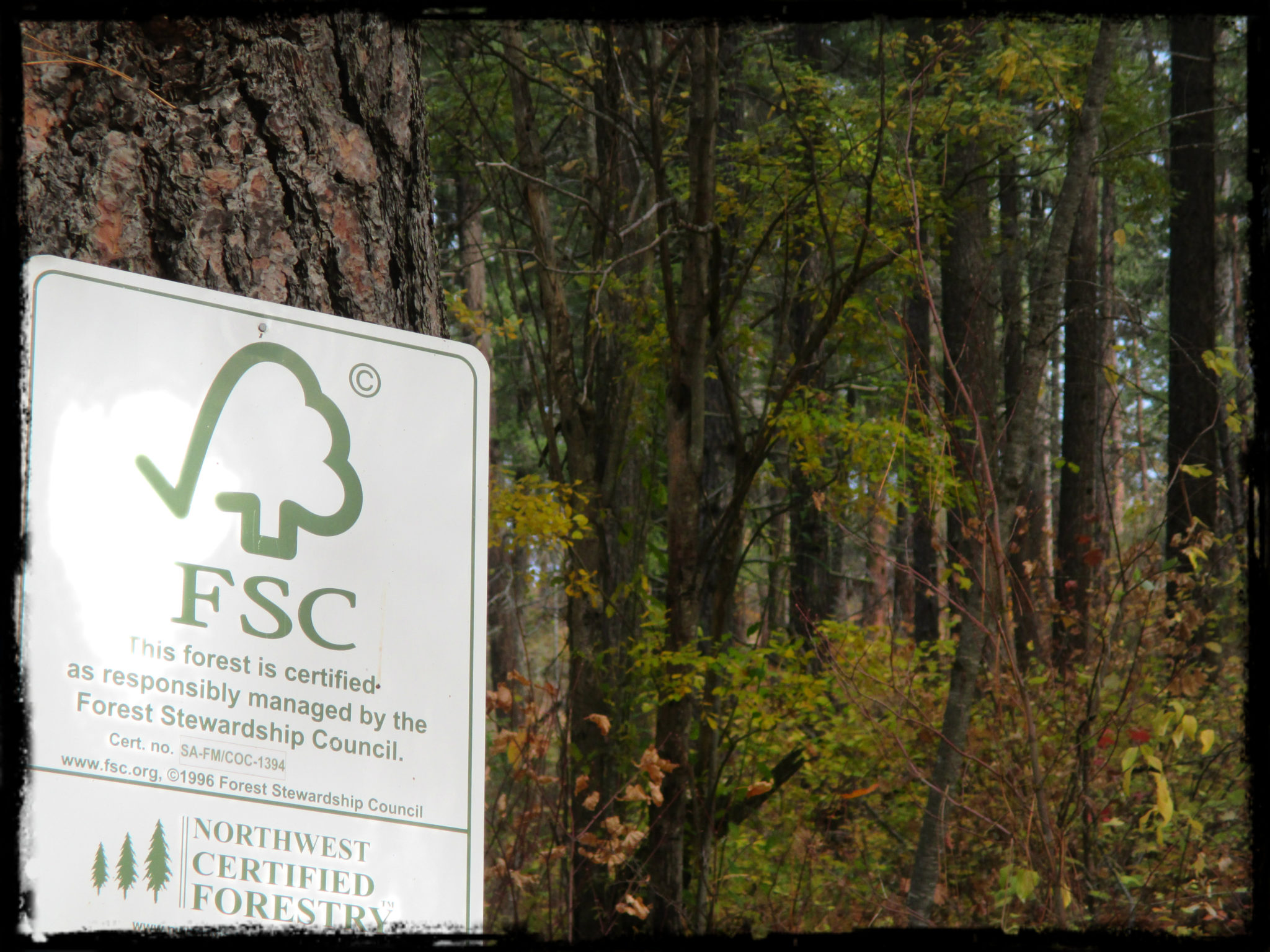 Tree by tree, Tierra Learning Center is coaxing 250 acres of dark dense woods into open forests with room for larger trees and resilience to wildfire.
Tucked amid the picturesque hills of Sunitsch Canyon, just a few miles up the Chumstick Valley outside of Leavenworth, there is a collaborative community of artists, educators, learners, farmers, and land stewards. This is Tierra Learning Center, a member of NNRG's Forest Stewardship Council® group certificate, where care takers are carrying out fuel reduction and thinning projects to protect the community and help the forest regain characteristics of wildfire resilience.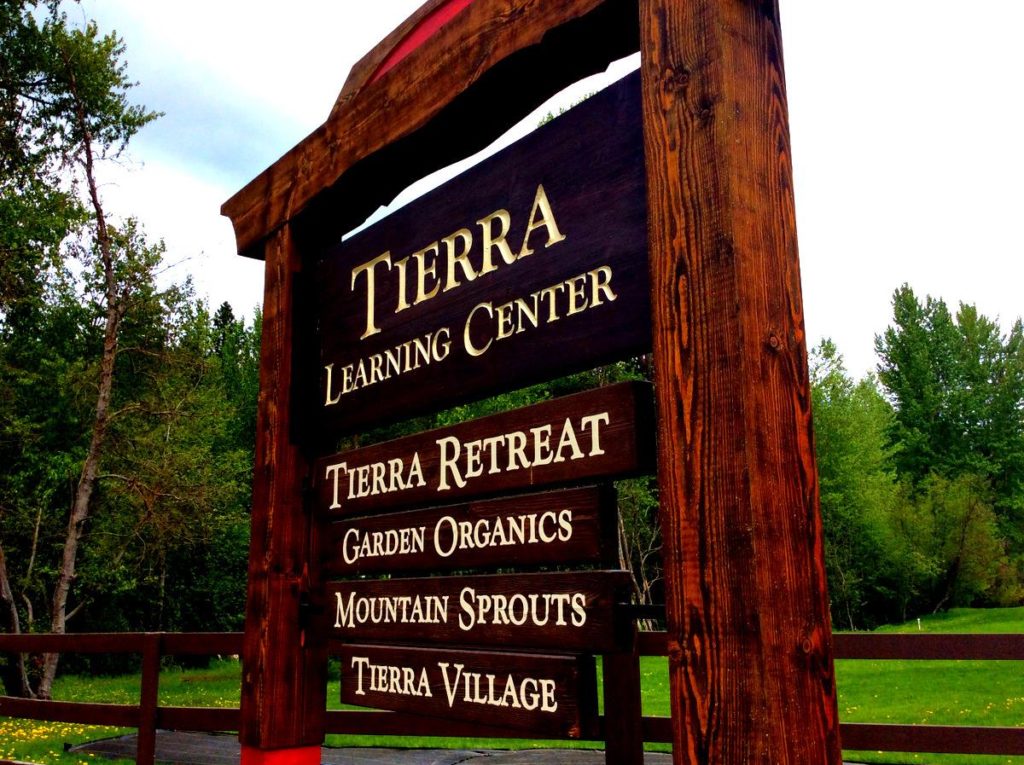 Tierra consists of six enterprises bound by a shared vision of inclusiveness, stewardship, and positive growth: a non-profit that provides homes and educational program for adults with differing disabilities, an organic farm, a pre-school, a pottery studio, a wedding and event venue, and Tierra Forestry, which manages thinning treatments and fuel-reduction projects on Tierra lands. About 250 acres of the 300 acre property are forest land.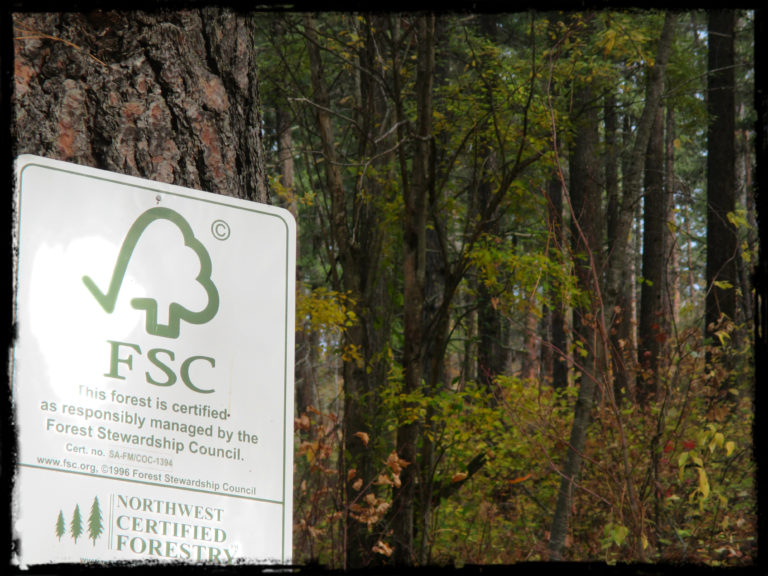 In 2010, Tierra completed a forest stewardship plan to help prioritize activities for protecting community members and facilities while also restoring the integrity of the forest by reducing fuel loads. Tierra's land managers recognized that years of fire suppression had left the Sunitsch Canyon forest overstocked with small trees – some areas with up to 700 trees per acre. The risk of a stand-replacing fire was high, and the canyon's steep slopes made for precious few escape routes. Not to mention, the dense stands were also at-risk for insect damage and diseases due to increased competition for water and other resources. "Chumstick Valley hadn't burned in 50 years," says TLC general manager, Andrew Holm, "It was like a tinderbox."
The human residents of the canyon weren't the only beings at risk of wildfire. Andrew notes the forest is home to an abundance of wildlife. "We've got a lot of diversity: cougar, bobcat, elk, bear. I could go on for a very long time about the birds." He mentions several migratory birds specifically: American golden plover, pippets, and redpolls. And incredibly, the forest has recorded eight woodpecker species.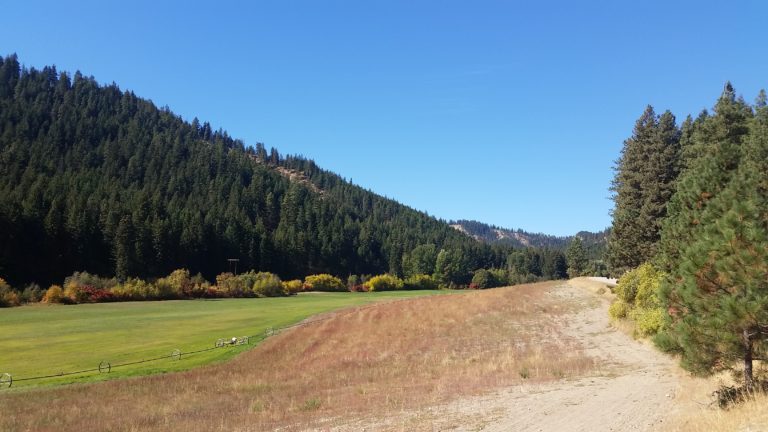 Historically, Sunitsch Canyon had been a landscape largely comprised of mature, well-spaced ponderosa pines. Logging around 1910 and decades of fire suppression gradually shifted the species composition to hillsides of small, dense Douglas-fir. After a hundred years of fuels buildup, the forest stewardship plan called for fuel-reduction projects, pre-commercial thinning, and commercial harvesting treatments to make room on the slopes of the remaining sunshine loving ponderosas to grow bigger. 
By having a forest stewardship plan, Tierra was able to qualify for cost-share funding from the Washington State Department of Natural Resources and the Natural Resource Conservation Service to help with pre-commercial thinning and fuel-reduction projects. These grants funded Tierra's priority management objectives for fuel-reduction treatments around the canyon's access points, strategic ridge lines, and areas around buildings across 60-some acres of the 300 acre property. Cost-share funding often helps overcome the financial barriers for doing this important work when the removed wood is not of merchantable value.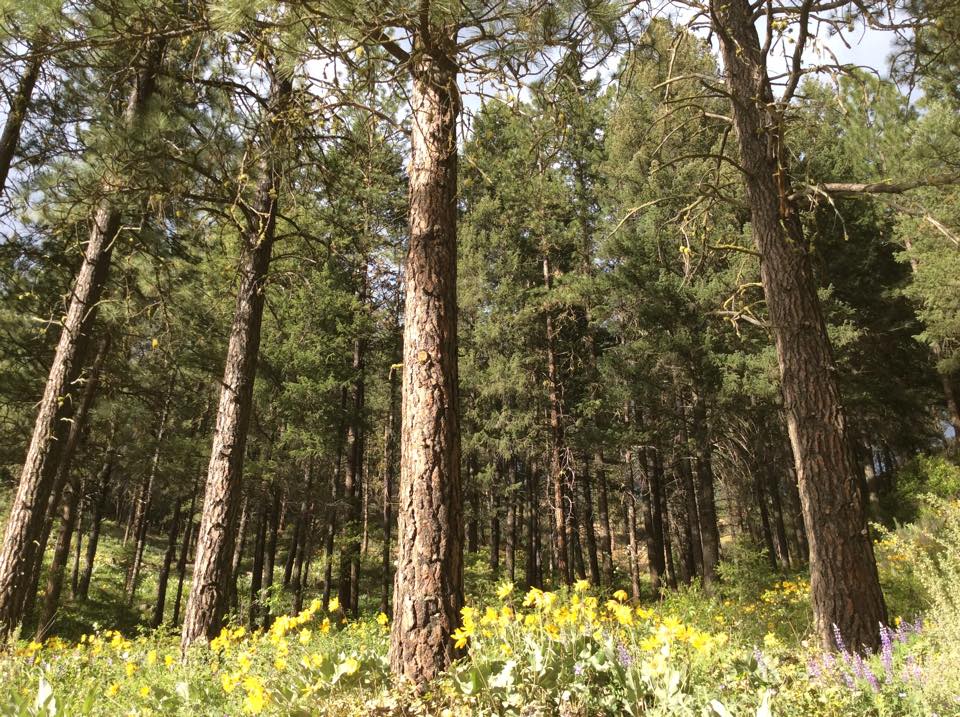 To help engage the Tierra community in understanding the importance of these fuel treatments and stewardship goals, Andrew found opportunities to incorporate the forest management into Tierra's vision of life-long, affirmative learning. The thinning work was done in-house, led by Tierra's on-the-ground steward, sawyer, and mechanic Pavel McGlade. Pavel took a Safety and Woods Worker (SAWW) course through NNRG which was the genesis of Tierra's SAWW classes. SAWW training promotes the safe and efficient use of chainsaws.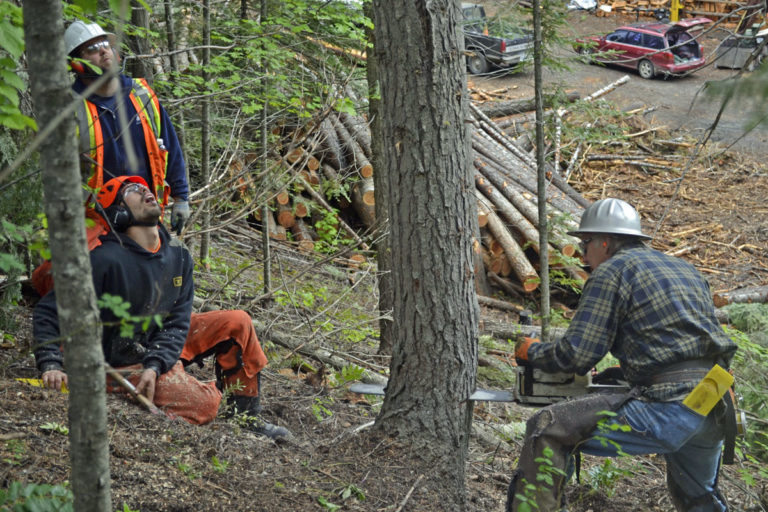 Other opportunities spun off of the forest health projects. Faced with a huge amount of woody material leftover from thinning and fuel reduction treatments, Andrew and his colleagues began experimenting with biochar, a kind of charcoal produced when woody debris are burned at high temperatures in a low-oxygen environment. For a while the biochar was sold at local farmer's markets. Now, the biochar operations are mostly used as an educational activity. Tierra's biochar is mixed with compost and returned to the earth through the organic farm on-site, where it promotes water and nutrient retention.
In 2015, Tierra began commercial thinning operations. The canyon's steep slopes made the work slow and tricky. Says Andrew, "The north facing slopes required road construction and cable logging—it was difficult to find an operator but we're now nearing the completion of a 20 acre hillside unit." Roads constructed for thinning double as firebreaks and provide increased recreational access.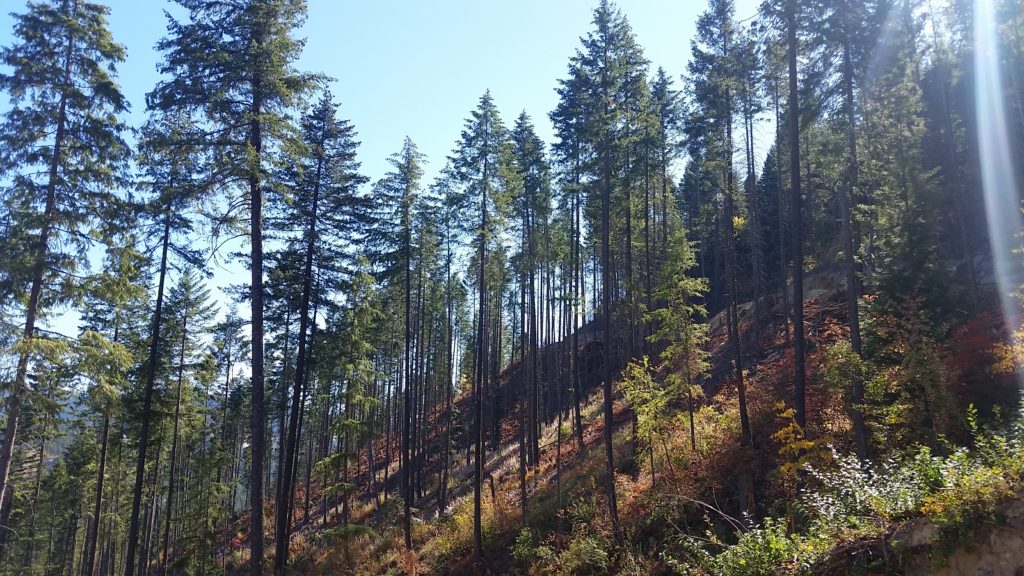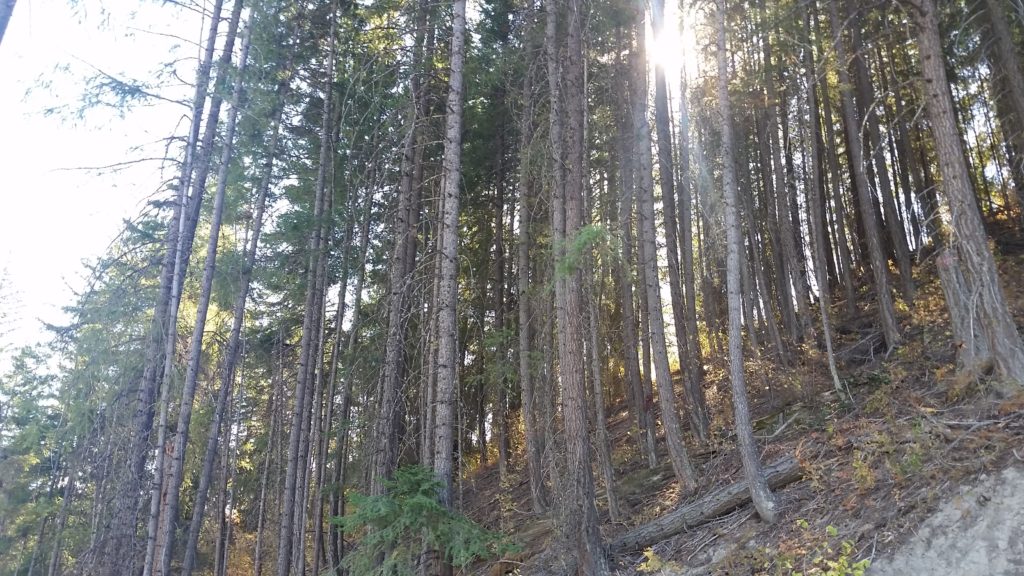 The pace of the commercial thinning work is dictated by the multiple public uses of Tierra. In the spring and summer, weddings and other events draw hundreds of people to the Learning Center. The beauty, tranquility, and recreational amenities are important to the community.  
There's still some 170 acres that could benefit from thinning and the goal is to treat about 20 acres a year for next 5-10 years. In future years Tierra has the potential for being a show case demonstration forest for the Chumstick Valley and the greater region given the range of treatments, challenges, and objectives that are common denominators among forest owners in the eastern foothills of the central Cascades.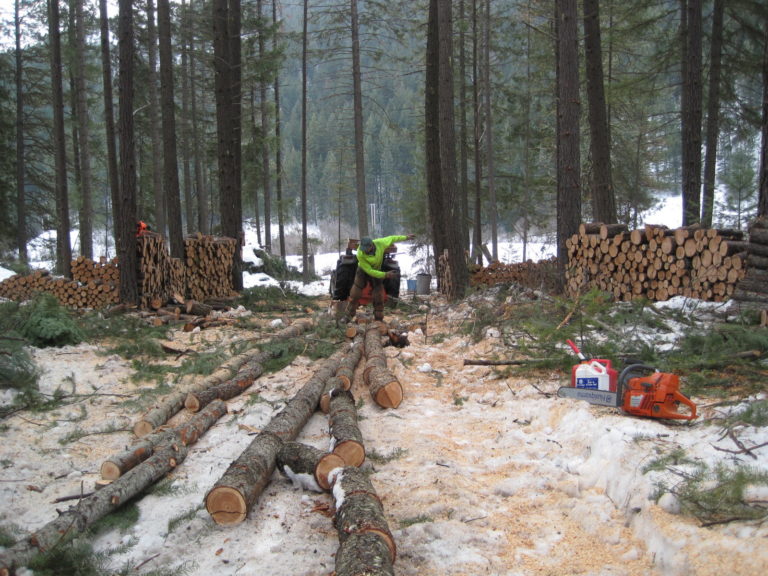 There is still a lot of work to be done in Tierra's forests, but Andrew takes the long view. "I think we're seeing the forestry component here as continuously on-going. [This] slow pace and scale is about what we can manage." Of course, managing wildfire risk doesn't just start and end with one property. Which is why Tierra isn't going at it alone—they're part of the Chumstick Wildfire Stewardship Coalition: a group of landowners and businesses in the Chumstick watershed providing education, funding, training, and support for community efforts to manage and adapt to wildfire. 
In the meantime, pottery is shaped. Organic vegetables are tended to. All community members are cared for, so that they can learn and thrive. Tierra's residents and guests continue to enjoy the beautiful, resilient forest behind the FSC® gate sign. And, according to Andrew, migratory birds continue to stop by. He seems pleased that the canyon is, in his words, "still is an attractive place to do a layover."
Learn more about Tierra Learning Center's various programs: www.tierralearningcenter.org
Find cost-share programs for your forest health projects: www.nnrg.org/resources-for-funding-forest-stewardship
Read about thinning and selling trees: www.nnrg.org/resources/thinning-selling-tree
Learn all about biochar and biofuels: www.nnrg.org/resources/biochar-biofuels