Happy Save the Frogs Day!
 Press Release Courtesy of Northwest Trek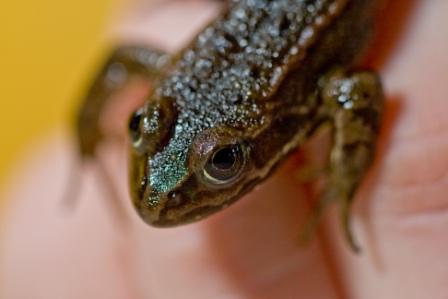 Contacts: 
Kris Sherman: 253-404-3800; 253-226-6718 or kris.sherman@pdza.org
Whitney DalBalcon: 253-404-3637 or whitney.dalbalcon@pdza.org
NORTHWEST TREK WINS PRESTIGIOUS NATIONAL CONSERVATION AWARD
Association of Zoos & Aquariums cites wildlife park's pioneering work to save the
Oregon spotted frog and reintroduce it to the wild
EATONVILLE, Wash. – Northwest Trek Wildlife Park received a top honor at the Association of Zoos & Aquariums' recent convention, winning the North American Conservation Award for 2012.
The wildlife park earned the prestigious accolade for its pioneering work in a collaborative effort to save the Oregon spotted frog from extinction. The little amphibian's range has been reduced by more than 75 percent and its numbers decimated by predators and human encroachment on wetlands.
The award recognizes "exceptional efforts toward regional habitat preservation, species restoration and support of biodiversity."
It was presented during the recently concluded annual convention of the Association of Zoos & Aquariums (AZA) in Phoenix, Ariz.
"We are exceptionally pleased to be honored with this award because it recognizes the conservation programs that are at the heart of everything we do at Northwest Trek," said Gary Geddes, director of Zoological and Environmental Education for Metro Parks Tacoma.
"It's particularly gratifying because this is a recognition by our peers, all of whom work every day on behalf of the environment and conservation of species."
Woodland Park Zoo in Seattle and Oregon Zoo in Portland also were named in the award. Northwest Trek and those two zoos are the primary partners in the 5-year-old program to rear the frogs from eggs and release them into wetlands areas. Frogs also are reared at the Cedar Creek Corrections Center.
"Head-starting" the frogs, feeding them food formulated for them and providing them time to grow in specially constructed tanks gives them a much improved chance to survive in the wild.
Northwest Trek's sister facility, Point Defiance Zoo & Aquarium, plays an advisory and funding-support role in the Oregon Spotted Frog Reintroduction Program. Washington Department of Fish and Wildlife oversees project management.
Other partners include Joint Base Lewis-McChord, Washington State Department of Corrections, Washington State Department of Transportation, U.S. Fish and Wildlife Service, The Evergreen State College, Port Blakely Tree Farms, Washington Department of Natural Resources, U.S Geological Survey, Mountain View Conservation & Breeding Centre and The Nature Conservancy.
The project's application for the award noted the mission is much bigger than one institution and that public education is a substantial component of the recovery effort.
Marc Hayes, a senior research scientist for Washington Department of Fish and Wildlife, said much of the "remarkable success" of the program goes to Northwest Trek.
The wildlife park has played a "pivotal role" in the recovery work, and Northwest Trek's "troubleshooting of complex rearing problems have gone (and continue to go) above and beyond their substantial contributions as a collaborator," he wrote in a letter of recommendation for the award.
Since the project's inception, nearly 4,000 juvenile frogs have been released into Pierce County wetlands, and there are now yearly signs of reproduction in the wild.

For more information, go to www.nwtrek.org and click on the Conservation heading.
Northwest Trek, accredited by the Association of Zoos & Aquariums, is a 725-acre zoological park dedicated to conservation, education and recreation by displaying, interpreting and researching native Northwest wildlife and their natural habitats. The wildlife park is a facility of Metro Parks Tacoma and is located 35 miles southeast of Tacoma off State Highway 161.