Forest Tour: Stand Release Techniques for Small Woodlands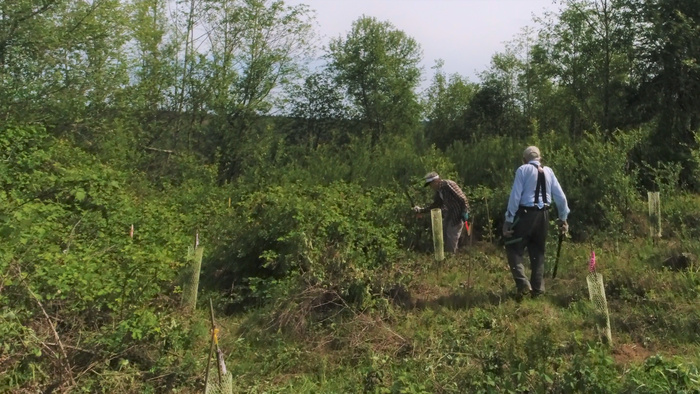 This twilight tour will showcase a range of techniques for releasing young trees from competition.
When attempting to establish a new generation of trees, forest owners face two fundamental tasks that can become increasingly tricky: seedling release and pre-commercial thinning.
Seedlings planted after harvest face steep competition for light, nutrients, water, and native and nonnative plants. As a young stand ages, the trees can begin to compete with one another for the same limited resources. Landowners have two basic options for reducing competition and optimizing the growth of their preferred trees: seedling release, when the plantation is young, and pre-commercial thinning, as the plantation ages.
This twilight tour of Hanson Family Forest will showcase a range of techniques that have been used for releasing young trees from competition, including: seedling release from shrub competition, Douglas-fir sapling release from bigleaf maple, pre-commercial thinning red alder, and the first commercial thinning of Douglas-fir. The tour will be led by Kirk Hanson, Director of Forestry for Northwest Natural Resource Group and steward of Hanson Family Forest.
EVENT DETAILS
Tuesday, August 23, 2022
5:30pm – 8:30pm
Bucoda, WA (30 min south of Olympia)
Exact location will be sent to workshop registrants, as the workshop is being held in a private forest.
TOPICS
Topics to be discussed will include:
Controlling invasive species
Stand release costs
Working with contractors
Red alder management
DIY stand release techniques
Commercial and pre-commercial thinning
And more!
Questions? Contact info@nnrg.org
Western Sustainable Agriculture Research and Education is supporting the research and workshops provided through this project with grant #OW19-350 – Seedling Release and Young-Stand Thinning as a Way to Increase Forest Health and Production