By the Numbers: 2016 Accomplishments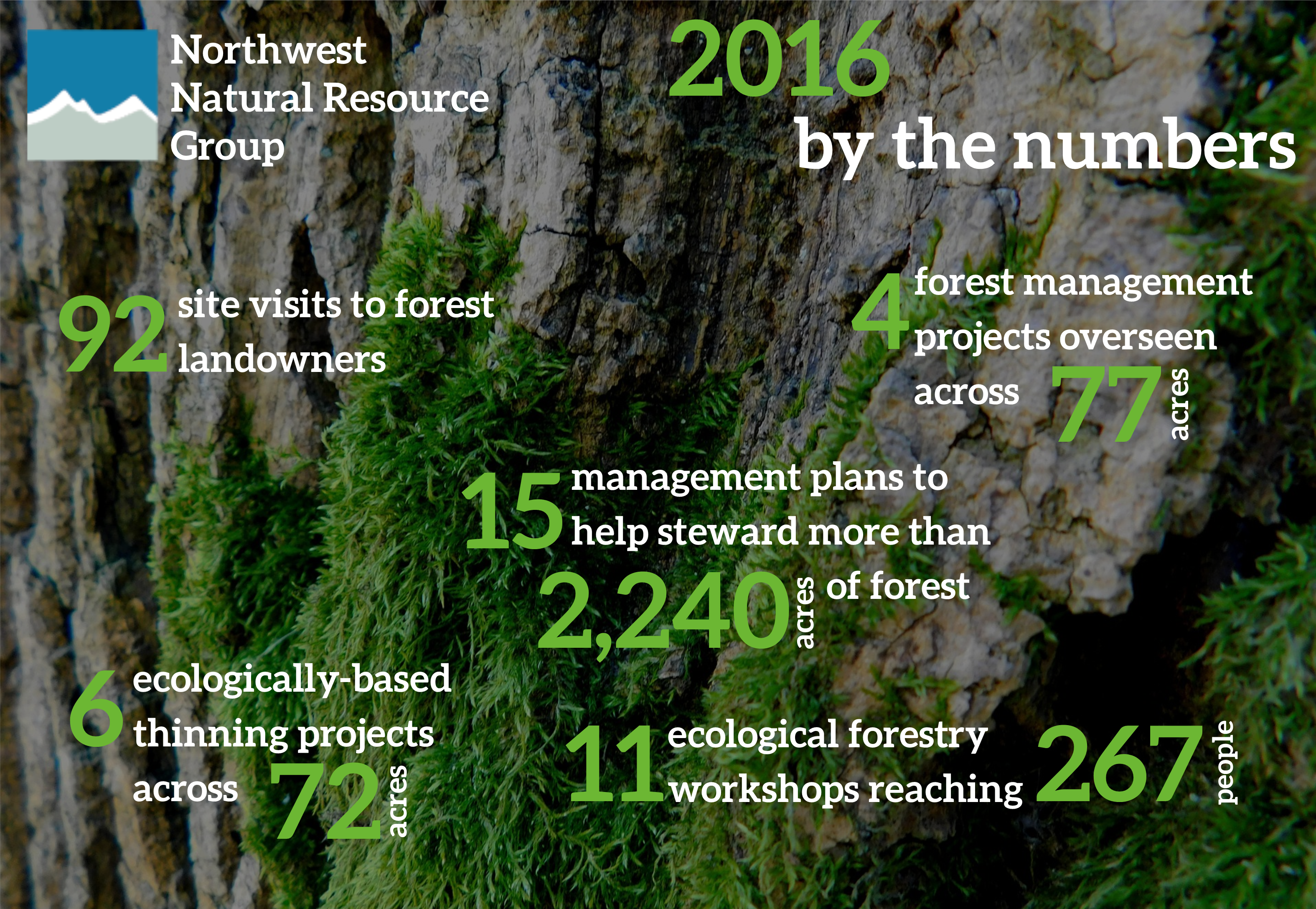 2016 was an incredible year for Northwest Certified Forestry members and the forests they steward. Because of the dedicated community of ecologically-minded woodland owners, Pacific Northwest forests are healthier, more resilient homes for wildlife and people alike. Here are some highlights of our year:
Accomplishments:
Our Community:
160 members across more than 162,000 acres throughout Washington and Oregon. Their forests represent an incredible diversity of woodland communities found in the Pacific Northwest.
Our membership includes:

More than 100 family forests and small businesses who steward the headwaters of major rivers, protect and enhance habitat for endangered species, support local contractors, and improve forest health, productivity and biodiversity.
11 youth camps and education centers from the southern Oregon Cascades to the San Juan Islands
10 land trusts and conservation groups
10 public land managers ranging from urban forests in Tacoma and Seattle to watersheds that supply clean drinking water to communities on the Oregon Coast and more than 1.4 million people in and around Seattle.

Our members produce a range of products: biochar, broom handles, cedar fence posts, cedar siding, cutting boards, dimensional lumber, essential oils, firewood, flooring, knife handles, meditation benches, tiny house kits as well as utility poles, saw logs, chip'n'saw, and pulp.
Certification:
Our Forest Stewardship Council® group certificate represents 29% of FSC certified land in Oregon and Washington (148,510 acres)

Our FSC certificate is the 2nd largest in the region. Only Washington State DNR's certification covers more forest land (176,700 acres, 34% of WA & OR FSC lands).

Our FSC group certificate members supplied 4,400 mbf of timber while adhering to FSC standards
7% of the volume sold as FSC certified