Partnership in the Skagit Watershed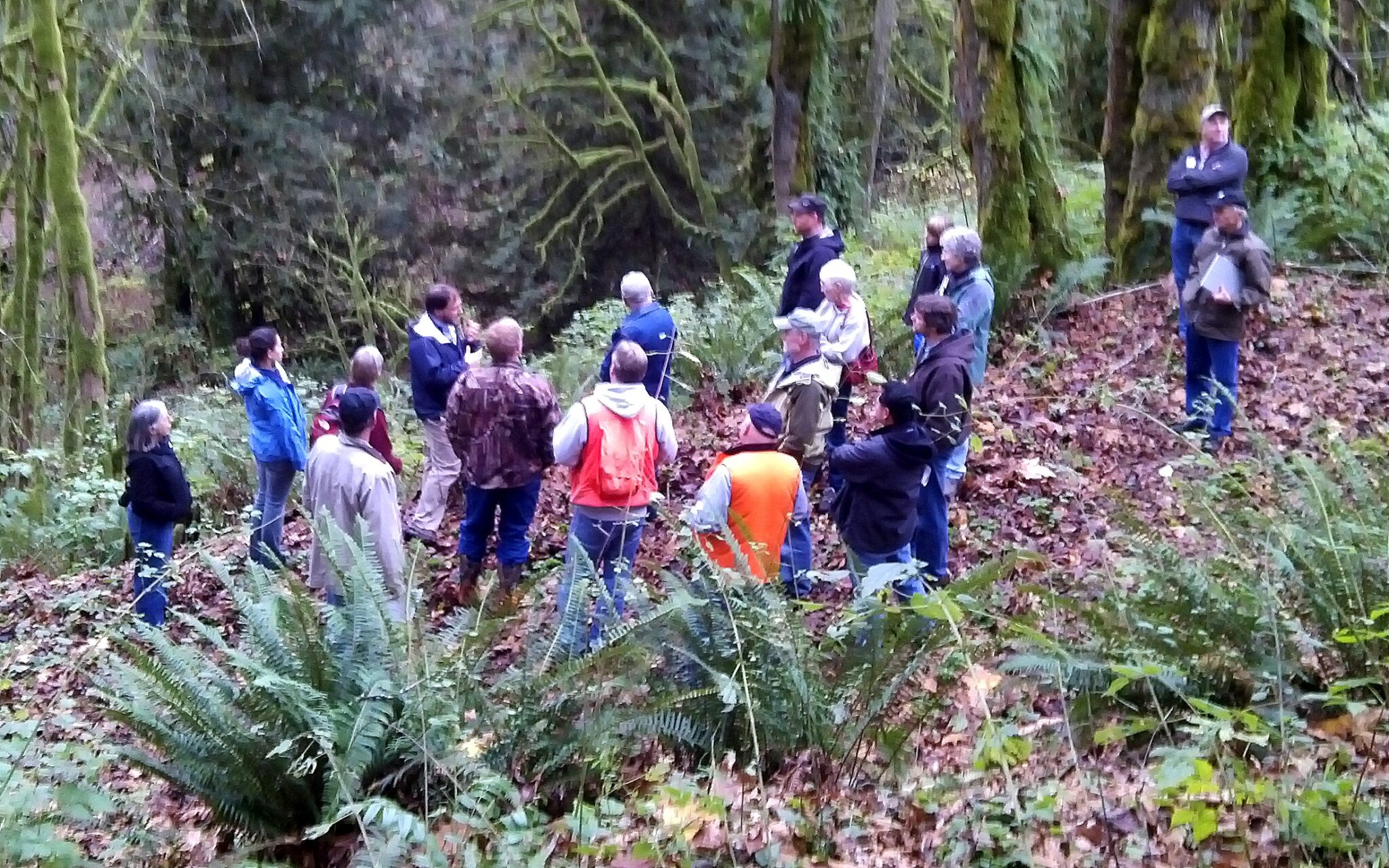 The iconic Skagit Watershed is important to all of us for its production of timber, food, and fisheries. It is also significant in that it is the only river system in the Puget Sound region to support all five species of Pacific salmon.
The Washington State Department of Natural Resources (DNR) and Northwest Natural Resource Group (NNRG) are collaborating to help woodland owners assess forest health and evaluate stream habitat and forest roads. Through this partnership we are reaching out to landowners in the Skagit Watershed to provide one-on-one site visits, workshops, and technical assistance.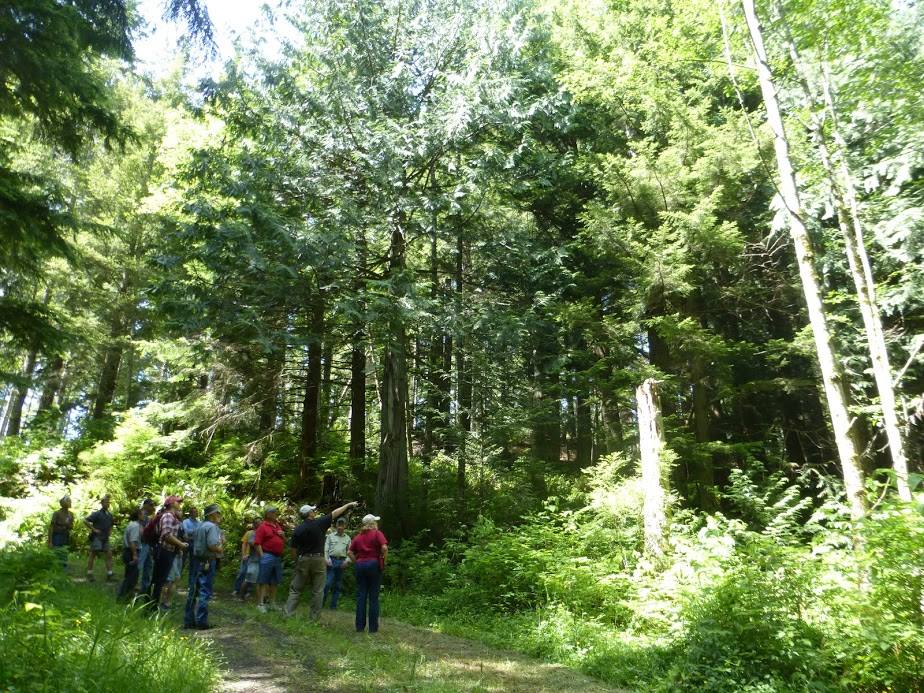 This project is supported by our partners: Skagit Conservation District, USDA's Natural Resources Conservation Service and is funded by the National Fish and Wildlife Foundation through a Conservation Partners grant.
---
Free Site Visits
Forestry professionals from the NNRG and DNR will work with you to conduct a customized and detailed evaluation of your forest management options. If you have questions about your land, please consider contacting us to schedule a FREE forest site visit. This free site visit can help you:
Improve your forests' health
Enhance timber productivity and wildlife habitat
Reduce fuels and wildfire risk
Maintain stream health and roads
Find and apply for cost-share and technical assistance grants
This is a free service for landowners in Skagit County and an excellent way to improve your forest stewardship skills. Site visits are voluntary and come with no obligation to implement the recommendations.
To request a FREE forest site visit contact:
Kirk Hanson, Director of Forestry, NNRG at 360-316-9317, kirk@nnrg.org
---
Workshops
From November 2014 to November 2015 we hosted four workshops for forest owners on: ecological forestry, riparian restoration in the Skagit Watershed, managing road systems, forest health, enhancing wildlife habitat, uneven-aged timber management, and optimizing the value of timber. Class instruction was followed by field tours of forests and mills to provide real world examples. Below you'll find links to workshop presentations.
Workshop Descriptions and Presentations:
Saturday, November 7, 2015 – Optimize the Value of Your Timber – Sedro-Woolley, WA
Recognizing the value of the timber you have can be the difference between selling a veneer-grade log at pulp prices instead of the market premium. By understanding the specialty product markets for veneer, figured wood, pole-quality timber, and export logs – you can extract the highest value for your timber.
It's important to understand the niche markets that exist around you, the log manufacturing process, and what you can do right now to optimize for long-term timber value and specialty forest products. Learn about specific practices you can do to grow quality wood and obtain the highest value for your timber.
Speakers:
Ken Osborn, Arbor Pacific Forestry Service
Shari Brewer, R&S Forestry and Construction
Greg Franklin, International Veneer Company
Brian Sweeney, Pacific Rim Tonewoods
Bill Turner, Sierra Pacific Industries
Presentations from the workshop:
---
Saturday, June 6, 2015 – Managing for Timber and Wildlife – Sedro-Woolley, WA
Check out photos from the workshop & blog post about the workshop.
Uneven-aged forest management is a silvicultural approach that incorporates the principles of forest ecosystems into actions on the land. Uneven-aged forest management techniques are used in European and eastern North American forests and have rich potential to be a sustainable system for managing forests in the Pacific Northwest. Woodland owners interested in a healthy forest ecosystem, timber management, income from timber, and wildlife habitat can incorporate a variety of silvicultural systems into their forest.
The day-long class will cover the principles of ecological forestry and practices, as well as how wildlife use forests and what habitat features they need most. Participants will come away with strategies and tools to time and design timber harvest projects on smaller parcels while providing for both wildlife habitat and timber value.
Presentations from the workshop:
---
Saturday, February 28, 2015 – Good Roads and Forest Health – Sedro-Woolley, WA
Perhaps the most important ecological service of our forests is providing clean water. Forest roads can significantly affect our forests by altering their natural hydrology and the functions of streams. Roads are also essential for managing our forests; they are our haul routes for timber, our recreational trails, our driveways.
This class will introduce participants to the principles of forest hydrology, as well as forest road planning and maintenance. Topics will include: forest hydrology 101, forest road planning and design, forest road maintenance, funding and technical assistance programs. Following an indoor presentation, participants will join technical experts for a site tour to see how good road maintenance and construction can provide benefits to a forest.
Presentations from the workshop:
---
Saturday, November 8, 2014 – Ecological Forestry and Riparian Health – Sedro-Woolley, WA
Check out photos from the Ecological Forestry and Riparian Health workshop.
This workshop will introduce forest owners to the principles of ecological forestry, its relationship to healthy streams, and strategies for successful riparian silviculture on their own lands. Following an indoor session with presentations from regional experts in ecological forestry and riparian health, participants will head about ten miles east of town for a site tour of a working forest that demonstrates ecological forest management principles in action – including a Conservation Reserve Enhancement Program (CREP) project, Family Forest Fish Passage Program (FFFPP) project, and riparian forest management.
Presentations from the workshop: